Recently, our company GN Solids Control. has successfully equipped a vacuum deaerator and sand pump for foreign Indonesian drilling customers for the supporting use of workover rigs and customer on-site solids control equipment for Indonesian customers.
1.
GNZCQ360 vacuum deaerator
The GNZCQ360 drilling fluid vacuum degasser is generally used as a supporting oil drilling solids control equipment. It is installed after the drilling fluid shaker. It is mainly used to remove harmful gases in the drilling mud after the shaker screen, protect the mud proportion, and improve Mud performance, and can effectively protect the mud pump and sand pump, and improve the treatment effect of the solids control equipment. The GNZCQ360 vacuum deaerator adopts an autonomous slurry suction method, sucking the mud into the tank through the negative pressure in the tank, no need to use a slurry pump, and can act as a stirrer during the operation to prevent the mud from settling. The GNZCQ360 vacuum deaerator has a maximum processing capacity of 360m³/h and is matched with a 37KW explosion-proof motor, which can meet the explosion-proof requirements of oil drilling sites.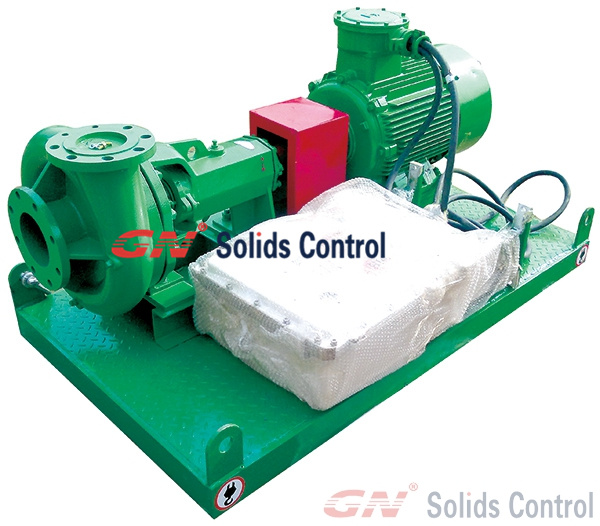 2.
GN Solids Control GNSB centrifugal pump
GN Solids Control GNSB series centrifugal pumps are mainly used for supporting oil drilling solids control equipment to transport drilling fluid and mud. At the same time, it can also be used for slurry pumps for GN centrifuges, desilters, desanders and other equipment. All series of GNSB sand pumps of GN adopt mechanical seals, which effectively provide the service life of the equipment, and the performance is more stable, and the failure rate of the equipment is reduced, thereby effectively improving the production efficiency of the drilling site. The processing capacity of GNSB series sand pumps from GNSB ranges from 35m³/h to 320m³/h for customers to choose according to actual conditions to meet the actual needs of most customers. In addition, the parts of GNSB series sand pumps can be interchanged with some well-known international brand sand pumps, which greatly facilitates the convenience of customers to purchase and replace accessories. If you have requirements and questions about solids control equipment, you can contact us at any time.
Leave a Reply