Recently, the separate skid-mounted cuttings dryer and drilling mud jet mixing device produced by GN Solids Control have been assembled and debugged and will be sent to a domestic drilling company.
The project mainly includes 5 GNCD930-GP vertical cuttings dryers and 4 300m³/h drilling mud jet mixing devices. Vertical cuttings dryers are used on offshore platforms, mobile workboats, land oil fields, etc. This equipment is designed to be used in a class of equipment for oil drilling waste treatment operations, which can realize oil-bearing drilling cuttings de-oiling treatment and water-based drilling cuttings It uses high-power broadband dual motors as the power source for functions such as reduction and emission compliance. The processing capacity of the cuttings dryer is 30-50 tons/hour. The upper part of the equipment is conical and the lower part is cylindrical. This equipment is suitable for marine, desert and land oil field operating environments.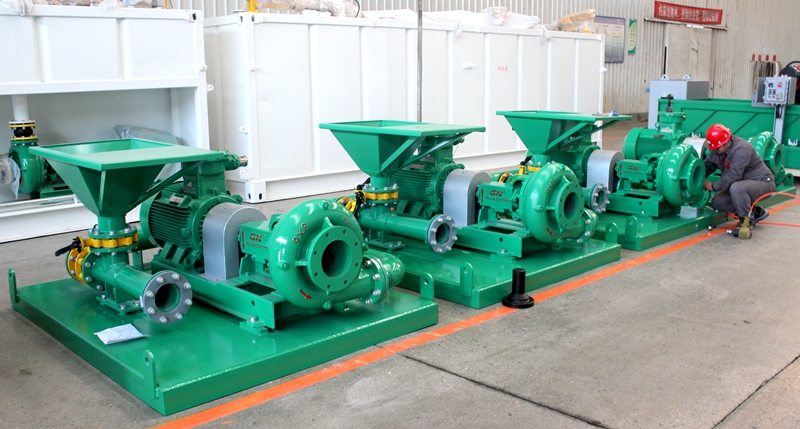 The jet mixing hopper device, as its name implies, refers to the mixing of water, clay (mostly bentonite) and other chemicals through the jet effect produced by the venturi funnel to achieve the effect of mixing drilling mud. Usually in the process of oil drilling and natural gas well drilling, drilling fluid can help cement the hole wall to prevent collapse during drilling rig drilling. Drilling fluid is also called drilling mud, usually divided into three categories: water-based Mud (abbreviated as WBM), oil-based mud (abbreviated as OBM) and synthetic-based mud (SBM).
GN Solids Control now has multiple sets of cuttings drying systems serving multiple oil fields in China, and processing water-based cuttings and oil-based cuttings separately. In addition, GN Solids Control also reached a strategic cooperation agreement with AKROS, a major Russian mud service company, and became a supplier of Gazprom (Gazprom for short), supplying solids control equipment all year round.
If you want to know more about GN Solids Control, we sincerely welcome you to inquire or visit our company.
Leave a Reply