Drilling fluid is expensive in the oil drilling operation. The cost is even higher than solid control equipment. If you use solid control system to recycle valuable drilling chemicals, it will save a lot of money. Decanter centrifuge is designed for barite recovery and dewatering in global drilling projects where the best efficient fluids/solids separation is required. Hereunder, we introduce world popular US brand Derrick DE-1000 FHV and China brand GNLW363VFD.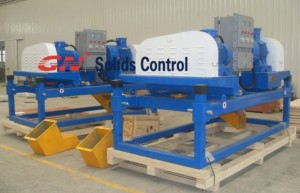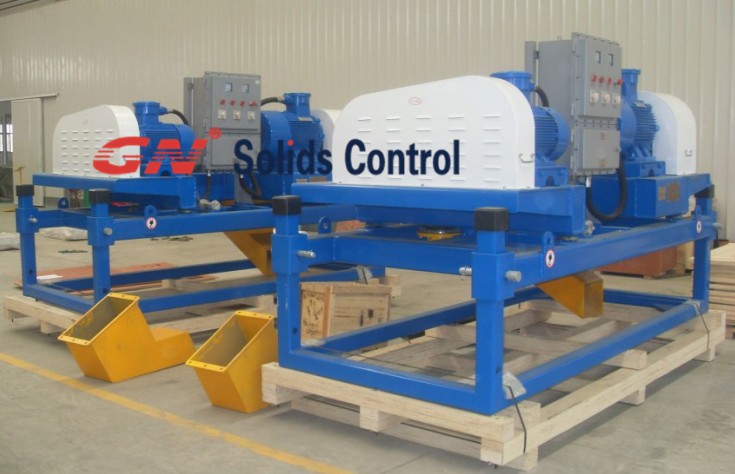 1. Derrick DE-1000 FHD Decanter Centrifuge
The DE-1000 FHD is installed on a rugged portable skid that includes a two point effluent discharge for easy setup. All rotating assembly components are manufactured from corrosion resistant 316 grade and high strength stainless steel alloy materials. Liquid and solid bowl heads are machined from forgings while the bowl and conveyor hubs are constructed from centrifugally cast stock. The drive system uses a 50 horsepower explosion-proof motor to drive the bowl via a hydrostatic pump/motor, and the conveyor with a Rotodiff by Isotherm AG. On high specific gravity solids loading applications,the Rotodiff may apply up to 45 horsepower to drive the conveyor. On high solids volume and high speed applications, the hydrostatic motor may also require up to 45 horsepower to drive the bowl. The large fan-cooled radiator is corrosion resistant to allow trouble-free operation in hot corrosive environments.
2. GNLW363VFD High Speed Decanter Centrifuge
GNLW363VFD high speed centrifuge is designed equivalent with Derrick DE-1000 FHD and Swaco 518 HV, This model is high speed which will reach to 3200PRM to get a better performance. The main power drives 50HP and assistant power 10HP work centrifuge bowl and screw with a 10HP feeding pump. GNLW363VFD centrifuge provide different speed by changing belts. By offering VFD control panel for this centrifuge, it will reach to a variable speed from 0-3200 RPM.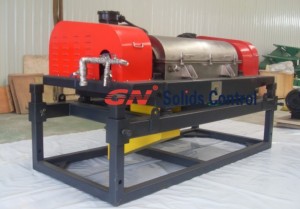 The only difference between DE-1000 FHD and GNLW363VFD is the drive type. DE-1000 FHD is full hydraulic drive, while GNLW363VFD is electric drive and belt transmission. You may find a little difference while using, but the treating result is almost the same and you can save lots of money if you choose GNLW363VFD.
Without doubt, GN Solids Control is the most professional manufacturer for decanter centrifuge with big bowl and big treating capacity. For any request, welcome to contact.
One Ping to "GN Solids Control GNLW363VFD Decanter Centrifuge"
MI-Swaco 518HV Decanter Centrifuge Says:
September 26th, 2013 at 11:42 pm

[…] Derrick DE-1000 FHD Decanter Centrifuge […]
Leave a Reply