GN Solids Control centrifuge is widely used in different field application. Recently, we have 3 sets of centrifuge ready for delivery to Middle East. 1 set big bowl big capacity variable speed centrifuge GNLW553-VFD, 1 set high speed and fixed speed centrifuge GNLW363BG and 1 set high speed and fixed speed mini centrifuge The customer use the centrifuge for oil sludge treatment.
22'' centrifuge GNLW553-VFD – Big bowl big capacity
GNLW553-VFD is the big bowl centrifuge from GN Solids Control. This is mainly used for fast drilling cut mud weight or micro tunneling projects. It can also be used for fine/ultra fine solids separation, barite recovery and zero-discharge dewatering.
GNLW553 centrifuge only variable speed available. The centrifuge can start with one separate VFD control panel. The centrifuge can start from 0 to 2500rpm smoothly and will not arouse very big momentary current. A 200kva generator is OK.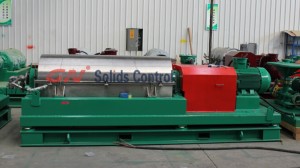 14'' centrifuge GNLW363 – flexible model for different project
GNLW363 centrifuge is equal to Derrick DE1000 and Swaco 518. This model centrifuge is generally used for solids control mud weight cutting, barite recovery, drilling waste management, and also dewatering centrifuge after flocculation unit. Over 200 sets GNLW363 series centrifuge is working all over the world, like centrifuge for North America, centrifuge for Latin America, centrifuge for Brazil, centrifuge for agentina, centrifuge for Nigeria, centrifuge for Egypt, centrifuge for Iran, centrifuge for Iraq, centrifuge for Australia, centrifuge for Russia, et.
Vedio of GNLW363 centrifuge working at water based mud rig site: http://www.gnsolidscontrol.com/video/water-based-mud-decanter-centrifuge-argentina
9'' centrifuge GNLW223 – baby centrifuge professional for waste water
GNLW223 centrifuge is GN mini baby centrifuge professional for waste water treating. This mini centrifuge can reach to 3800rpm, the high speed can separate the fine solids from water. Like this customer from Middle East, also use the mini centrifuge in this way.
After many years experience accumulation, GN Solids Control is growing up to the shining star as the leading manufacturer for decanter centrifuge. For any requirement, pls contact GN Solids Control freely.
2 Pings to "Decanter Centrifuge for Oil Sludge Treatment"
Decanter Centrifuge for Oil Sludge Remedy | Posts Says:
November 12th, 2014 at 7:40 pm

[…] Decanter Centrifuge for Oil Sludge Treatment is a publish from: Mud Solids Control Equipment […]

GN Centrifuge to South America and North America | Posts Says:
January 1st, 2015 at 2:11 pm

[…] Decanter Centrifuge for Oil Sludge Treatment GN Solids Management centrifuge is extensively utilized in totally different subject… […]
Leave a Reply