GN Solids Control recently completed a batch of sludge transfer pumps and decanters for sale to environmental engineering companies. The sludge solid vacuum pump is used to clean the sludge in the mud pit, and the decanter centrifuge is used for the sludge dewatering treatment. In the fields of environmental dredging, oil tank cleaning, and oil-containing hazardous waste sludge reduction, GN sludge vacuum pumps have been widely used.
1. Decanter centrifuge for environmental protection
Decanter centrifuges produced by GN Solids Control are of stable quality and excellent performance, bringing users a premium experience. Orders from old customers grew steadily, and inquiries from new customers increased. GN Decanter Centrifuges have the following features:
A. Drum material: duplex stainless steel 2304; screw pusher: stainless steel with wear-resistant alloy sheet protection;
B. The main bearing is lubricated with thin oil, the running state of the bearing is better, it can reach higher speed, and it is equipped with a lubrication protection system, which can still provide lubrication for 5~10 minutes after a sudden power failure;
C. A shock absorber is installed under the motor to avoid the impact of vibration between the motor and the centrifuge host;
D. The collection box adopts an anti-noise design, which can effectively reduce the noise of the centrifuge;
E. The collection box is equipped with a flushing pipe, and the customer can flush the collection box if necessary;
F. Equipped with scraper and end scraper to prevent the drum from wearing, and equipped with a slag retaining ring to prevent the solid phase side of the collection box from blocking the material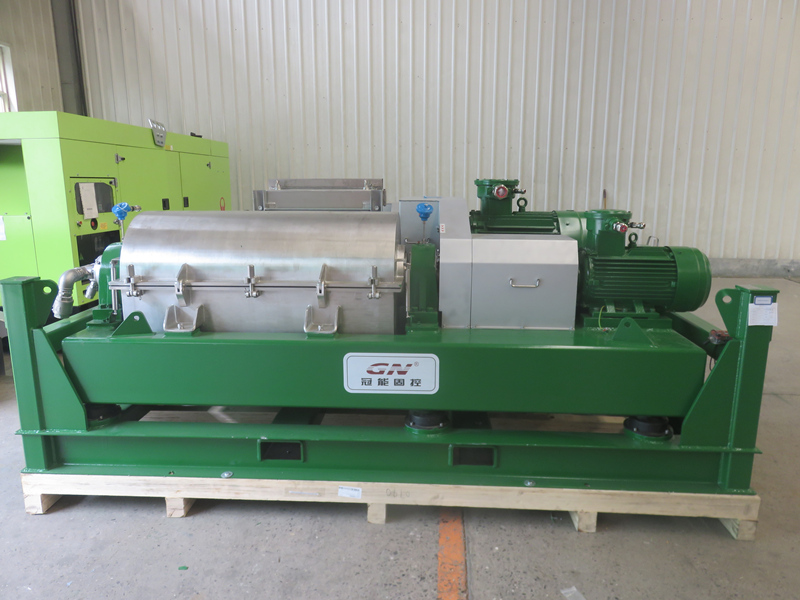 2. Sludge vacuum pump
GN Solids Control vacuum pump is a pneumatic pump with air as power source, which can be used to transport mine tailings, drilling waste, industrial slurry, chemical powder, construction aggregate, oil sludge, kitchen waste and other materials.
In the material conveying work, the screw conveyor is usually used for transmission, but because of the short conveying distance and high cost, the long-distance conveying demand cannot be well satisfied. The GN solid vacuum pump can reach a suction distance of 50 meters and a discharge distance of 1000 meters for clean water. It is of great significance for long-distance transportation.
The reason why GN Solids Control vacuum pump can have good effect and long head for solid conveying is because it can form high negative and positive pressure. GN Solids Control specially designed two types of vacuum pump rotary unloading device and vacuum pump buffer funnel to relieve pressure and prevent the impact in the process of discharging materials. So as to meet the requirements of customers.
This time, the sludge vacuum pump was supplied to a well-known environmental protection customer for material transportation, and a decanter centrifuge was used for solid-liquid separation, so as to meet the process requirements of the environmental protection company.
If you have any needs in this regard, you are welcome to contact GN Solids Control.
Leave a Reply