GN Solids Control is a professional manufacturer of solid-liquid separation equipment. After more than ten years of development, the solid-liquid separation equipment produced by the company has been sold to many countries and regions around the world. Recently, our company has successfully customized for Australian customers. A set of construction mud solid-liquid separation equipment.
1. Linear dewatering shale shaker
GNLMZ1236 linear dewatering shale shaker is widely used in mineral processing, coal preparation, building materials, metallurgy and chemical industry for dewatering and separation. It adopts advanced design methods such as advanced finite element analysis and anti-fatigue analysis to ensure that the structure of the GNLM dewatering screen is reasonable. While reducing energy consumption, the dewatering and dry-discharging capacity can be increased, and according to customer requirements, the dewatering shale shaker can be customized according to customer conditions.
2, double-layer mud shale shaker
GNZS706 shale shaker belongs to GN double-layer shale shaker, which is widely used in piling shield mud treatment, large oil and gas drilling rig, large trenchless drilling rig, and screening treatment in industrial multi-stage separation.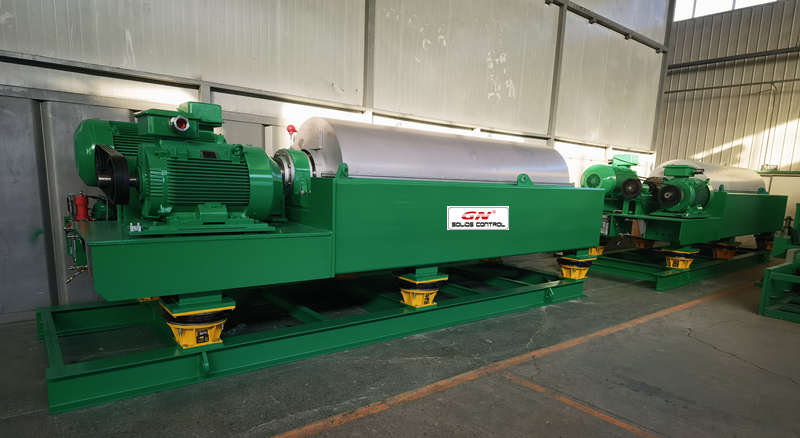 3. Mud cleaner
GNZJ703 mud cleaner is composed of three kinds of equipments: sand removal, mud removal and shale shaker. It has a compact structure design, which can effectively save working space. It is also equipped with a detachable cyclone bracket, which can also be modified into different working conditions. Shale shaker, desander, desilter use.
The diameter of the drum of GNLW553 centrifuge is 22 inches (550mm). It has a large capacity and can meet the needs of most working conditions. It is widely used in drilling mud, sewage treatment, mining separation and other fields. The drum is cast with SS2205 bidirectional stainless steel centrifuge The slag discharge port adopts a special tungsten carbide hard alloy sleeve, and the pusher adopts a replaceable wear-resistant alloy sheet, which has a long service life and is easy to maintain. , effectively prolong the service life.
Five, flocculation dosing system
In order to ensure the better dewatering performance of the centrifuge, our company also provides a professional automatic flocculation dosing system for customers, and modularizes the container of the centrifuge and the flocculation dosing system to facilitate transportation and protect the equipment.
Leave a Reply