Decanter centrifuge is one of GN's main products that widely used in all kinds of drilling mud recycling and waste management. This week, GN just finished the fabrication of the variable speed decanter centrifuge ordered by an India drilling contractor.
Almost all the drilling contractors request the equipment used on oilfield to be explosion proof certified for safety consideration. To meet the customers' requirement on explosion proof standard, GN is now able to provide equipment with motors and control panel certified by China national explosion proof CNEX, IEC Ex and ATEX.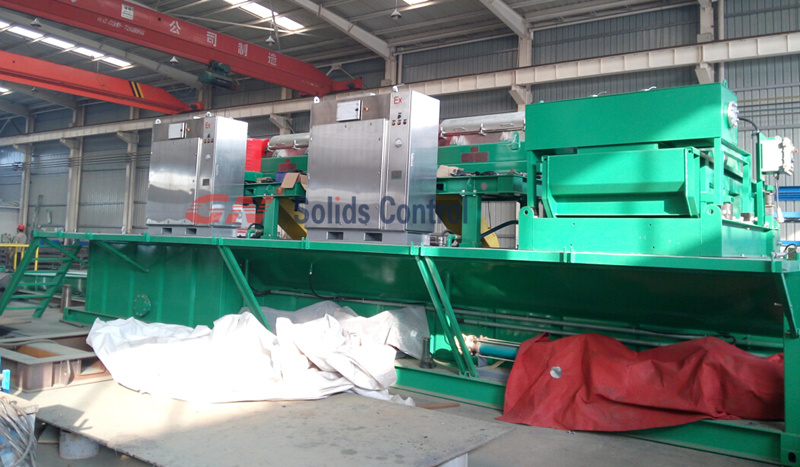 The ordered decanter centrifuge is GN's model GNLW363C-VFD. The bowl diameter is 14 inch (360mm), bowl length and diameter ratio is around 3, which explains the model of the centrifuge. GN's 14 inch decanter centrifuge can be used for various purposes due to the VFD design. The typical working speed of this model is 3200RPM, at this speed, the fine solids with size down to 2-5 microns could be separated out without adding additional chemicals. By reducing the speed to around 2000RPM, this unit can be used for barite recovery in solids control system.
The bowl material of this unit is duplex stainless steel 2304 which is much better than SS316L. The centrifugal casting technic makes the bow material has a better distribution feature for better balance.
This unit is equipped with temperature sensor at both bearing seats to inspect the temperature of the bearing. And a vibration sensor is installed on the base for abnormal vibration. All the sensors are used to collect information of centrifuge running and send signal to the VFD control panel. By uploading program into the VFD panel, the panel could monitor the centrifuge and trip off the unit for protection.
The VFD control panel matched to the centrifuge has 3 VFDs for main and back motors of the centrifuge and the feeding pump. Operators could set the running parameters on the HMI screen to adjusting the centrifuge running condition. GN's VFD panel is positive pressurized explosion proof method, together with the air conditioner, the VFD panel could be used in hazardous are with very high ambient temperature.
Both the decanter centrifuge and control panel are made by GN self. For more information on GN's decanter centrifuge and other mud recycling equipment, please feel free to contact with GN.
More question,welcome contact GN solids control
Leave a Reply