Work over drilling rig mud system is also one kind of solids control system in drilling work. And GN Solids Control is professional at this kind of mud system. After 2 mud tank systems for workover drilling rig to Indonesia, and Drilling mud system and mud mixing system for Australia,  today Another 2 Sets XJ550 HP Petroleum Workover Drilling rig solids control mud system are finished within 40 days ready for delivery to Kazakhstan.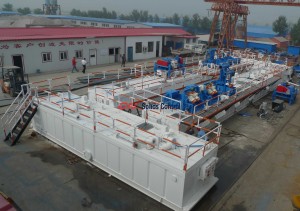 The workover rig mud system is usually contains shale shaker, decanter centrifuge, and mud tank. The desander and desilter is optional, it depends on the environment you faced.
As you may have noticed, we have send the work over rig mud system to two different place, Indonesia and Kazakhstan. South, North,and Middle of the earth, hot and cold. GN Solids Control can supply all the equipments customized, wherever you are, Indonesia or Kazakhstan, south or north of the earth,or you are in the coldest area or hottest area, you need, and GN do it, what's more, do it perfect!
Benefits of Choosing GN Workover drilling mud system
Customized Design Equipment: As we can see, we produce you wanted, just for you!
Simplicity and Useful: Simplicity is the essence of GN Solids Control, and we made equipments useful!
User Friendly: Very easy and safe to use all the solids control equipments, we always considering our user even when choosing the leaders.
Environment Friendly: Be friendly to the environment is very important in drilling, to keep the world beautiful.
Warning
: chmod(): No such file or directory in
/www/wwwroot/oilfield.gnsolidscontrol.com/wp-includes/plugin.php(390) : runtime-created function
on line
1
Warning
: chmod(): No such file or directory in
/www/wwwroot/oilfield.gnsolidscontrol.com/wp-includes/plugin.php(397) : runtime-created function
on line
1
Warning
: chmod(): No such file or directory in
/www/wwwroot/oilfield.gnsolidscontrol.com/wp-includes/plugin.php(402) : runtime-created function
on line
1
Warning
: chmod(): No such file or directory in
/www/wwwroot/oilfield.gnsolidscontrol.com/wp-includes/plugin.php(410) : runtime-created function
on line
1
Warning
: chmod(): No such file or directory in
/www/wwwroot/oilfield.gnsolidscontrol.com/wp-includes/plugin.php(415) : runtime-created function
on line
1
Warning
: chmod(): No such file or directory in
/www/wwwroot/oilfield.gnsolidscontrol.com/wp-includes/plugin.php(423) : runtime-created function
on line
1
Leave a Reply