Since its establishment, GN Solids Control has been committed to providing world-class drilling customers with first-class shale shaker. After years of hard work in the domestic and foreign markets, the shale shaker manufactured by GN Solids Control have been seen everywhere on drilling sites around the world. As an important market for GN Solids Control, there are hundreds of GN Solids Control shale shaker, mud cleaners, decanter centrifuges and debris spinners on the Indian market to help customers carry out drilling mud purification and drilling waste management operations .
As we all know, if you provide equipment to Indian customers, especially large Indian oil and gas drilling companies, DGMS mandatory certification is essential. This batch of shale shaker provided to customers by GN Solids Control has passed DGMS explosion-proof certification. GN Solids Control also provides IECEX or ATEX explosion-proof control systems for different markets.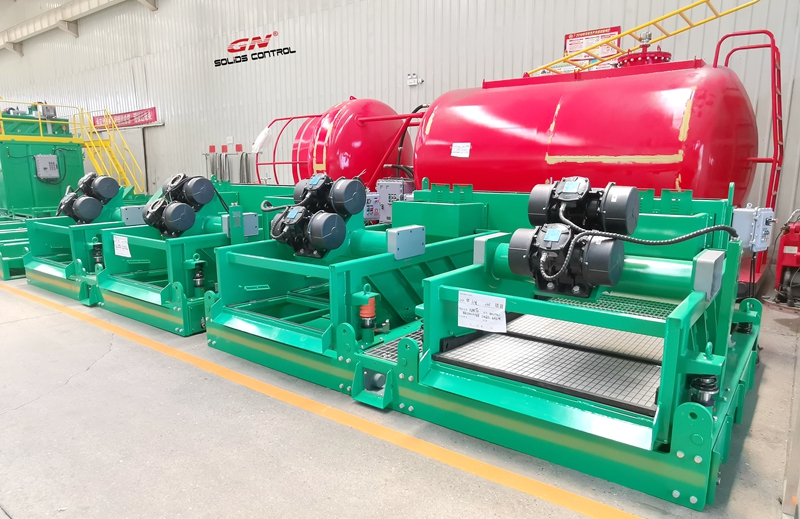 GN Solids Control currently has three production plants: two close to Beijing International Airport and one close to Tangshan City. At present, GN Solids Control is implementing automatic welding robots to weld the shale shaker to ensure the consistency of the weld quality. The sealing device on the bottom frame of the vibrating screen adopts the unique patent structure of GN Solids Control. The working angle of the shale shaker can be easily adjusted from one side by using a screw.
The screens on the order shale shaker are also independently produced by GN Solids Control. The screens produced by GN Solids Control have passed API RP13C certification to ensure that the screening effect and screening accuracy of the screens meet the requirements of this standard.
One of the biggest advantages of this batch of shale shaker is that each shale shaker can achieve linear motion and elliptical motion:

Linear motion is suitable for drilling mud with large flow rate, low viscosity, high solids content, large particles, especially hard solids; while elliptical motion is mainly used to handle fragile drilling mud, high viscosity solids.
GN Solids Control only uses top brand vibration motors such as American Martin or Italian European power. The electrical components in the control box are mainly Schneider brand.
If you need to use the shale shaker, please contact us as soon as possible.
Leave a Reply