GN Solids Control is China leading solids control equipment manufacturer with over 70% sales amount from overseas market. The annual sales amount for shale shaker & mud cleaner is over 250 sets; the annual sales for decanter centrifuge is over 150sets; the annual sales for mud agitator & mud gun is over 400sets; the annual sales amount for shaker screen is over 10000pcs, including replacement screen for Derrick 500/2000 PWP/PMD screen, replacement screen for Swaco Mongoose screen, replacement screen for NOV Brandt King cobra screen.
At the ending of last year, GN get big order from Africa & Europe. The Africa customer buy one sets 3500bbl mud tanks system for mud storage and service for over 3 land rigs; Another company from Europe buy 3 sets 1000hp oil drilling rig solids control mud system after checking the performance of 750hp rig mud system from GN Solids Control.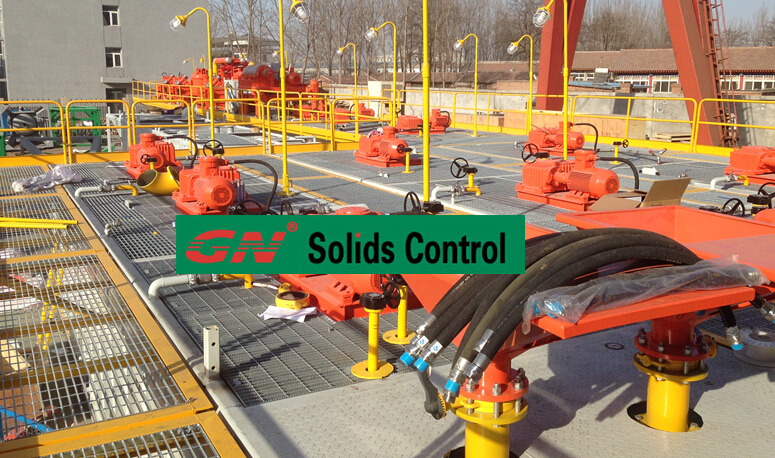 The solids control equipment for 1000hp oil drilling rig including:
1nos poor boy degasser
6nos shale shaker GNZS594 with 4pcs composite material shaker screen which is replacement for Swaco Mongoose PT shaker.
3nos mud cleaner with same deck shaker as GNZS594
3nos Vacuum degasser for better performance and remove cut gas
1nos Low Speed Decanter Centrifuge for barite recovery
1nos High speed decanter centrifuge for mud weight cutting
17nos mud agitator with double impellers
15nos mud gun with 360° rotation degree
4nos submersible slurry pump
10nos centrifugal pump including feeding pump for desander cones & desilter cones, trip pump, mixing pump, shear pump etc.
120pcs shaker screen
7nos mud tank including 3 shaker tank & 1 centrifuge tank & 1 active tank & 1 suction tank & 1mixing tank.
Read more from GN website: http://www.gnsolidscontrol.com/drilling-fluids/3-sets-1000-hp-oil-drilling-rig-solids-control-system-europe
GN Solids Control is professional solids control equipment supplier. With reliable equipment & timely after sales service team, GN brand is becoming good frame in oil drilling & HDD & CBM & TBM & water well drilling field. We cherish our good brand and cherish very customer. GN Solids Control will ever support the market with high quality equipment & service. Pls contact us freely.
2 Pings to "Solids Control Equipment for 1000hp oil drilling rig"
Solids Management Gear for 1000hp oil drilling rig | Posts Says:
March 3rd, 2015 at 4:26 pm

[…] Solids Control Equipment for 1000hp oil drilling rig is a submit from: Mud Solids Control Equipment […]

GN Solids Management Financial system Mud Recycling System for Africa | Posts Says:
April 22nd, 2015 at 7:50 am

[…] Solids Control Equipment for 1000hp oil drilling rig GN Solids Management is China main solids management gear producer… […]
Leave a Reply