As a leading brand in the domestic solid-liquid separation equipment industry, GN Solids Control is constantly committed to providing customers with solid quality products with stable quality, superior performance and high economic efficiency. As far as decanter centrifuges are concerned, GN Solids Control has serialized the production models of centrifuges. From GNLW76 series decanter centrifuge with a 30-inch drum diameter, GNLW55 series decanter centrifuge with a 22-inch drum diameter, GNLW36 series decanter centrifuge with a 14-inch drum diameter to GNLW22 series decanter with a 9-inch drum diameter Centrifuges. The decanter centrifuge models in each series are divided into centrifuges with an aspect ratio of 3 and an aspect ratio of 4.2 according to the construction conditions. These various types of centrifuge models cover various solid-liquid separation conditions.
Decanter centrifuge and shale shaker is main equipment for drilling mud treatment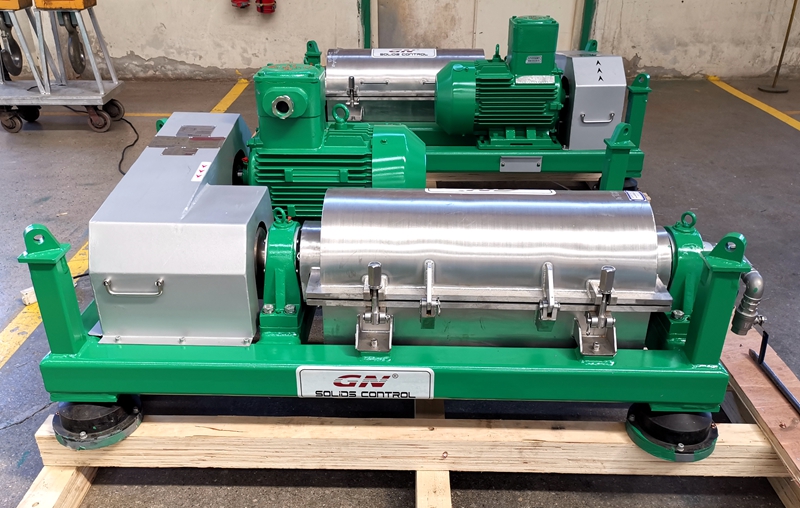 This month, GN Solids Control completed the delivery of two decanter centrifuges for an old customer in South America. The customer just ordered a batch of GN Solids Control products 9 months ago. After using the GN Solids Control products for a period of time, the customer was very satisfied and he immediately placed an order for the above centrifuge. South America is a very important region in GN Solids Control's international market. At present, GN Solids Control has a very large number of GNLW22 series centrifuges serving various slurry processing sites in South America.
Generally speaking, the decanter centrifuge is mainly composed of several parts such as rotating drum, screw pusher, collection box, equipment base, main and auxiliary motors and electric control box. GN Solids Control can provide customers with two options of fixed speed centrifuge and variable frequency centrifuge, and can also choose the appropriate explosion-proof electric control box and explosion-proof motor according to different working conditions on the customer's site.
The drum of GN Solids Control centrifuge is made of two-phase alloy stainless steel by centrifugal casting. The solid phase slag discharge port, drum scraper and side scraper are all made of cemented carbide material by precision metallurgy casting. Inside the drum, the blades of the screw propeller are made of carbide inserts, which are more wear-resistant and easier to replace. Not only do we strive for excellence in the materials of centrifuges, we also pay more attention to quality in terms of supporting brands. GN Solids Control centrifuge bearings use the international top brand-SKF bearings, electrical components are used Siemens, ABB and Schneider brands.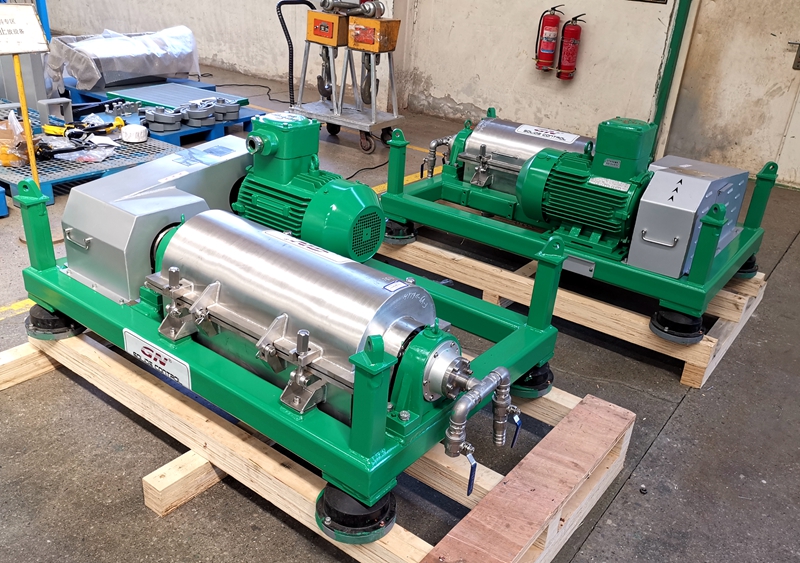 If you have requirements for separation equipment, please feel free to contact us, GN Solids Control will provide you with first-class pre-sales, after-sales service and support.
If you have related requirements, please feel free to contact GN Solids Control.
Leave a Reply