GN Solids Control has recently produced a batch of miniature solids vacuum pumps and miniature vibrating screens for sale to customers in South America. GN Solids Control not only produces solid-liquid separation equipment, but also produces matching conveying or liquid supply equipment, such as decanter centrifuges, and can also supply matching submerged slurry pumps or screw pumps for slurry supply. GN Solids Control vibrating screen can be supplied with GN centrifugal sand pump or vacuum pump. That is to say, GN Solids Control can provide a complete processing solution and a complete set of processing equipment to meet the needs of customers.
When it comes to shale shaker, GN Solids Control produces different types of shale shaker with different capacities, such as GNZS752 vibrating screen, with a capacity of 40m³/h; GNZS703 vibrating screen, with a capacity of 120m³/h; GNZS594 vibrating screen, with a capacity of 140m³/h; It can also produce double-layer vibrating screen GNZS706, with two layers up and down, each layer has 3 screens, which has a larger processing capacity and better processing effect. With the continuous development and innovation of technology, GN has launched a new mine vibrating screen for a wider range of fields. The vibrating screen produced by GN Solids Control uses imported motors, and the explosion-proof electronic control is equipped with Siemens Schneider and other electrical components. Use a pre-tensioned composite frame screen with a quick-release ratchet tool for easy screen replacement and long service life. The screen box is heat treated as a whole, and the bottom frame of the screen box is made of stainless steel, which has strong corrosion resistance and long service life. The angle of the screen box is adjusted synchronously on one side, which can be adjusted without stopping the screen box, and the operation is stable. The micro vibrating screen supplied to South American customers is the GNZS752 vibrating screen mentioned above, with a processing capacity of 40m³/h, compact structure, occupying The land area is small and economical.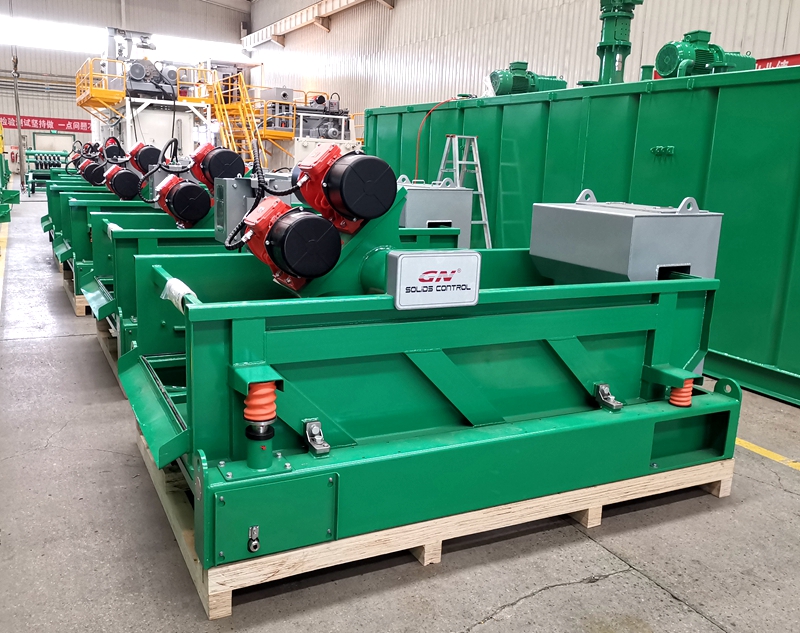 About GN Solids Control vacuum pump, it is a pneumatic pump powered by air, which can be used to transport mine tailings, drilling waste, industrial slurry, chemical powder, construction aggregate, sludge, kitchen waste and other materials. GN Solids Control vacuum pumps are available in a variety of models including the GNSP-40B, GNSP-20B, GNSP-10B and GNSP-05B.
The vacuum pump model supplied to customers in South America this time is GNSP-05B. Its unique structural design enables it to work in harsh environments with low maintenance rate, and can transport solid, liquid or solid-liquid mixture and high specific gravity materials with good fluidity at high speed. Its working principle is that the high-efficiency Venturi device generates up to 25 inches of HG vacuum to suck the material under strong airflow. It is a pure pneumatic device and meets various explosion-proof requirements.
If you have any needs for solid-liquid separation equipment or distribution equipment, you are welcome to call GN Solids Control.
Warning
: chmod(): No such file or directory in
/www/wwwroot/oilfield.gnsolidscontrol.com/wp-includes/plugin.php(390) : runtime-created function
on line
1
Warning
: chmod(): No such file or directory in
/www/wwwroot/oilfield.gnsolidscontrol.com/wp-includes/plugin.php(397) : runtime-created function
on line
1
Warning
: chmod(): No such file or directory in
/www/wwwroot/oilfield.gnsolidscontrol.com/wp-includes/plugin.php(402) : runtime-created function
on line
1
Warning
: chmod(): No such file or directory in
/www/wwwroot/oilfield.gnsolidscontrol.com/wp-includes/plugin.php(410) : runtime-created function
on line
1
Warning
: chmod(): No such file or directory in
/www/wwwroot/oilfield.gnsolidscontrol.com/wp-includes/plugin.php(415) : runtime-created function
on line
1
Warning
: chmod(): No such file or directory in
/www/wwwroot/oilfield.gnsolidscontrol.com/wp-includes/plugin.php(423) : runtime-created function
on line
1
Leave a Reply