Sand pump is a major sand pump equipment, also is a very important part in solids control system. It is judge by these factors: flow, lift power, speed, efficiency.
Usually it is featured like this: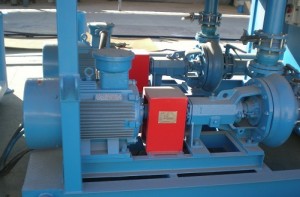 And it is always used here in drilling mud circulation system as a drilling fluids pumping equipment: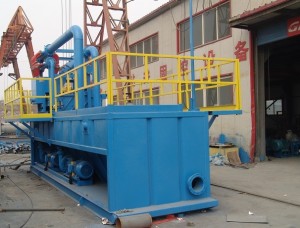 In solids control system, it is always used to send drilling fluids which is mixed with drilling cuttings and drilling mud, from one tank to another tank, to keep the circulation of the drilling mud system.
You can get one example of  sand pumping equipment- SB Sand Pump Technical Parameters:
| | | | | | |
| --- | --- | --- | --- | --- | --- |
| Model | Flow | Lift | Power | Speed | Efficiency |
| SB8×6-14 | 320m3/h | 40m | 75KW | 1480r/min | 65% |
| SB8×6-13 | 240m3/h | 35m | 55KW | 1480r/min | 64% |
| SB8×6-12 | 216m3/h | 30m | 45KW | 1470r/min | 64% |
| SB6×5-14 | 200m3/h | 40m | 55KW | 1480r/min | 62% |
| SB6×5-13 | 180m3/h | 35m | 45KW | 1470r/min | 60% |
| SB6×5-12 | 200m3/h | 30m | 37KW | 1460r/min | 62% |
| SB5×4-14 | 120m3/h | 40m | 37KW | 1460r/min | 56% |
| SB5×4-13 | 90m3/h | 40m | 30KW | 1460r/min | 56% |
| SB4×3-12 | 60m3/h | 20m | 11KW | 1450r/min | 54% |
| SB4×3-11 | 40m3/h | 20m | 7.5KW | 1450r/min | 49 |
8 Responses to "Sand Pumping Equipment"
Leave a Reply