Mud mixing equipment ususlly includes mud hopper, mud gun, mud agitator, jet mud mixer.  Offshore mud mixing equipments needs marine explorsion proof motors for mud agitator and centrifugal pump.
Tanks of offshore drilling is usually different, so mud mixing unit is very special, the shaft of mud agitator must adopt the depth of the tank, so does the length of the mud gun.
One sample solution for our customer:
Usually our agitator have two impellers, as the tank is very deep, we design three for them now.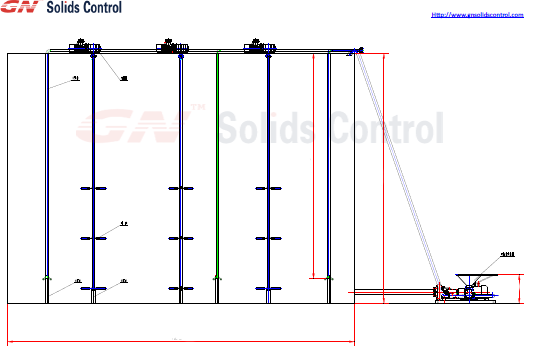 And to get  better and more efficient, we put the hopper of jet mud mixer on the top of the tank, as shown in the picture.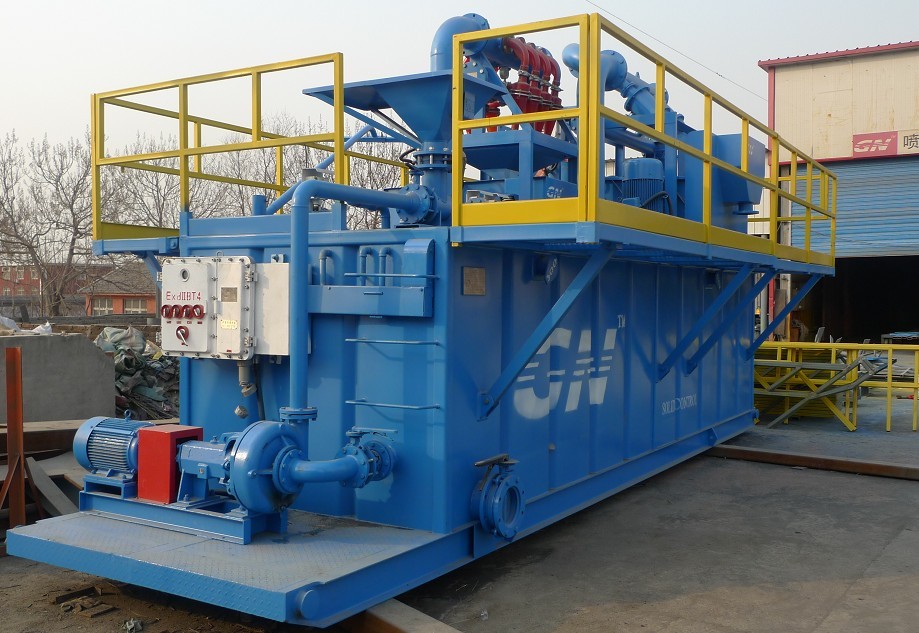 Offshore Mud Mixing System
MI Swaco mud mixing system is controled by computer,  but still these equipments, mud hopper and mud agitators, so does derrick and nov and so on. GN Solids Control can supply all kinds of solution for virous demands of our customers.
One Ping to "Offshore Mud Mixing Equipment"
3"Mud gun for sale Says:
March 18th, 2011 at 6:10 pm

[...]  Tank top mud gun is usually with function of agitating, together with mud agitator, they are important equipments for drilling mud tank and mud mixing tank. And how many sets of agitator you have for the mud mixing tank, usually how many mud guns you have. But it also have exception, for example, when the tank room is very small, you have no room for the agitator, and the tank is not so large, you can use a mud gun instead, it is much cheaper, needs smaller area to install and convenient to operate, also do not need to use electric power, but use pressure to work, and you do not need to buy a lot of spare parts such as gear box, bearings for the mud agitator. Anyway mud gun has a lot of advantages but it can not replace mud agitator totally, the agitating effect is not so strong as agitator. We need to use them together to benefit from both of them. [...]
2 Responses to "Offshore Mud Mixing Equipment"
1. model no.mud mixing system nov Says:
January 14th, 2013 at 5:34 am

Pls give me a use in offshore mudmixer computer rise model number.

2. Jerry Hostasek Says:
February 24th, 2013 at 8:14 am

require information and pictures on a swivel tank top mud guns in a 3 inch size
Jerry Hostasek
KOC Mechanical Project Superintendent
Weatherford Drilling International,
Weatherford │Plot 800060 Block 13, near Magwa Check Point. North Ahmadi. │Kuwait. │PO Box 9282
Main: +965.2398.5011│ Direct: +.965.2398.5011 ext.400/ Mobile +971.505561469
Jaroslav.hostasek2@me.weatherford.com │ http://www.weatherford.com
Leave a Reply