Among ME countries, Iran market is a good market for oil drilling. Many equipment suppliers and drilling contractors have been working hard on the market for many years. Up to now, in the field of solid control equipment and service, the fact is that some U.S. brands control the most part of the market. And it is not easy for China brand to come, even with high quality and inexpensive equipment. We may talk about decanter centrifuge as one aspect. In Iran, the most popular model of decanter centrifuge is Swaco CD518HV and GNLW363VFD. They are both high speed centrifuge model.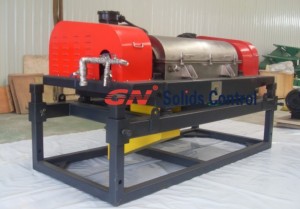 1. Swaco CD518HV, model from Mi-Swaco decanter centrifuge
CD518 HV with technical parameters as below:
Dimension (L*W*H): 3022*1778*866mm
Bowl diameter: 14'' (356mm)
Bowl length: 56'' (1422mm)
Material: Stainless steel
Screw protection: Tungsten carbide scroll points
Typical Bowl speed: 1900~3250 rpm
Water capacity:  250GPM
The CD518 HV, compared with the old model, field tests in fact show that the new model delivers a greater performance than two standard units combined since it increases processing capacity and improves solids separation. The available power for both main and back drive is increased (main from 18.5 to 37kW and back from 7.5 to 11kW) as well as the internal diameter of the liquid discharge.
2. GNLW363VFD, model from GN Solids Control decanter centrifuge
GNLW363VFD with technical parameters as below:
Dimension (L*W*H): 3100*1599*1884/1434(Height adjustable)
Bowl diameter: 14'' (360mm)
Bowl length: 50'' (1270mm)
Material: Stainless steel 316
Screw protection: Tungsten Carbide Tiles
Typical Bowl speed: 0~3200rpm
Water capacity:  250GPM
Even though there are some difference between this two model centrifuge (the main difference is drive type, GN model is not full hydraulic drive), the two model are almost equivalent. Compared with Swaco CD518HV, GN decanter centrifuge has below advantages:
(1) Cost-effective, means equipment with good quality and good price. GN centrifuge has the equal working performance with Swaco 518. So if the customers buy from GN, they can save lots of money.
(2) After sales service: Many companies don't offer engineer for equipment commissioning. But GN can offer professional engineer to your jobsite once request.
If you need decanter centrifuge or other solid control equipment, welcome to contact GN solids control.
Leave a Reply