GN Solids Control is not only professional solids control equipment supplier, but also supply different mud tanks for different functions. The size of mud tanks range from big mud tanks for oil drilling solids control system and mud plant to mini mud tanks, eg trip tank, sump tank, pill tank etc.
1) Pill tank and trip tank for solids control mud system
Pill tank is used for conditioning the drilling mud by add barite, bentonite or other heavy weight additive.  The size is about 1000x1000x1500mm. The position is placed after decanter centrifuge, fixed on the mixing mud tank. After adding heavy weight additive, the drilling mud can be mixing fully by force from Jet mud mixer with a centrifugal pump.
Trip tank is used for feeding the well when change the drilling tubes. It is generally positioned besides the shaker tank.
Recently, GN Solids Control just offer one sets of 1500HP rig mud system to RG Petroleum.  Pill tank and trip tank is included.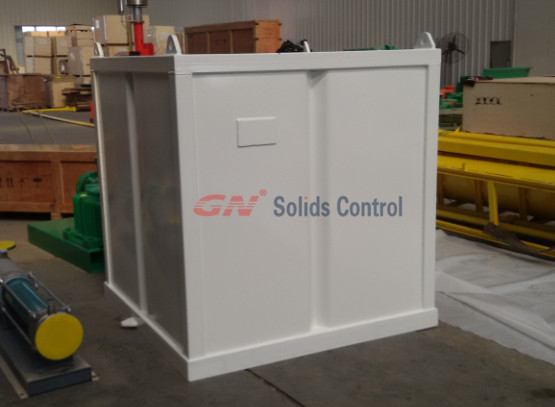 Sump tank is used under Hi-G dryer for WBM drilling cuttings treatment. It is a small mud tank without top cover. The size should be confirmed according to Hi-G dryer. But one thing, the height should be as lower as possible, making easier for feeding.
From year of 2010, GN Solids Control have offered many sump tank to Scomi Oiltools (Iran) for their WBM drilling waste management projects.
3) Slope tank for OBM drilling waste management
According to International Standard, GN Solids Control manufactured OBM Recycling Unit for OBM drilling waste management. There are 3 main equipment in the unit: vertical cuttings dryer, submersible slurry pump and decanter centrifuge. The submersible slurry pump is installed in a slope tank which similar to taper tank. The advantages is suspend the drilling mud treated by vertical cuttings dryer and make it easier for feeding decanter centrifuge.
Recently, GN Solids Control offer one set OBM Recycling Unit to Nigeria Oil Service Company. Slope tank is included.