After operating the solids control system with the working of the drilling, to save cost, lengthen the life of shaker screen is very important, the essential thing is an active screen maintance program.
Screen panel flexing caused by dirty, missing or worn deck rubbers. Clean dirty deck rubbers or replace missing or worn deck rubbers. Always change all deck rubbers in the affected section of the shaker.
OLD WAY TO CLEAN SHAKER SCREEN
Remove any solids that become adhered to the screen cloth. Use a water hose or pressure washer to clean screens.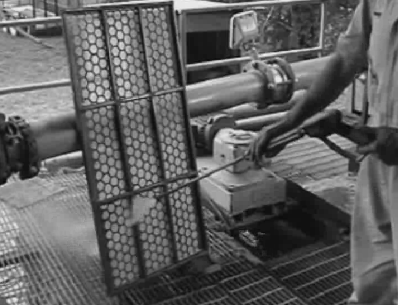 NEVER clean screens with a wire brush. If screens become blinded with near size particles it is best to remove and wash with a pressure washer from the back side. Always clean screens if the shaker will be idle for a long period of time. Mud and cuttings that are allowed to dry on screens will eventually lead to premature failure.
NOT ONLY THE SCREENS
When replace the shaker screen, another important part came to eyes, the rubber. It is also an essential step to ensure the security of the system.
Once the worn or damaged screen panel is removed from the screen deck, always clean and inspect deck rubbers. If deck rubbers are worn or missing, always replace all four deck rubbers in that section of the screen deck. Replace any missing fasteners. NEVER install screens over worn or missing deck rubbers. ALWAYS ensure that screen Wedgelocks? are properly installed and firmly in place. NEVER walk or stand on the screen panel(s). Take care not to drop anything on the screen panel(s).
SHAKER SCREEN CLEANER MACHINE
Fluids system in Amarica, invent a machine to clean the shaker screens. To protect the environment and enhance your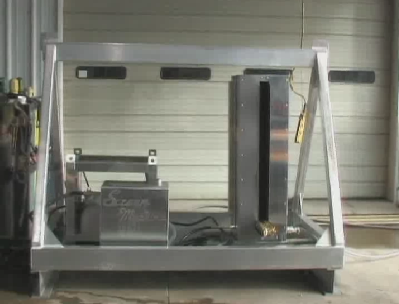 shaker screen performance the Screen Machine is a necessity for every rig in your fleet. The ability to clean screens and inspect for damages is just one way that the Screen Machine pays for itself.  Decrease or eliminate manifested material expenses by cleaning screens before scrapping damaged screens.
The benefits of the Screen Machine include:
environmentally friendly,
money saving,
designed for Class 1 Division 1 operating areas
operator friendly and easy to use.
With the Screen Machine on your rig, prepare to clean, repair and preserve screens
Roughneck friendly, the unit, has few moving parts and no automated features. The Screen Machine eliminates pollution, due to cleaning screens, by capturing waste water in both onshore and offshore environments. The waste water from the cleansing process collects in a holding tank, when full the contaminated liquid is transferred by an explosion proof pump.
Warning
: chmod(): No such file or directory in
/www/wwwroot/oilfield.gnsolidscontrol.com/wp-includes/plugin.php(390) : runtime-created function
on line
1
Warning
: chmod(): No such file or directory in
/www/wwwroot/oilfield.gnsolidscontrol.com/wp-includes/plugin.php(397) : runtime-created function
on line
1
Warning
: chmod(): No such file or directory in
/www/wwwroot/oilfield.gnsolidscontrol.com/wp-includes/plugin.php(402) : runtime-created function
on line
1
Warning
: chmod(): No such file or directory in
/www/wwwroot/oilfield.gnsolidscontrol.com/wp-includes/plugin.php(410) : runtime-created function
on line
1
Warning
: chmod(): No such file or directory in
/www/wwwroot/oilfield.gnsolidscontrol.com/wp-includes/plugin.php(415) : runtime-created function
on line
1
Warning
: chmod(): No such file or directory in
/www/wwwroot/oilfield.gnsolidscontrol.com/wp-includes/plugin.php(423) : runtime-created function
on line
1
Leave a Reply