GN solids control recently developed a set of waste sludge treatment equipment in cooperation with well-known environmental protection service companies in the United States. It has entered the experimental stage and has achieved remarkable results. At present, we have reached a strategic cooperation intention with the US environmental service provider. We provide specialized waste sludge treatment equipment, and the other party uses our equipment to do business work on sludge treatment in the Chinese market. The other party is mainly responsible for environmental protection treatment for oil field abandoned sludge, refinery abandoned sludge, and oil plant contaminated ground soil.
The main components of the GN solid control sludge treatment system:
1, sludge premixed heating, stirring, insulation, conditioning equipment.transfer by vacuum pump
Shaker screen for coarse filtration transfer device.
3, the first grade sludge fine processing device.
As shown in Fig. 4, a second-stage sludge treatment device, a chemical dosing system.
5, oil and cement three-phase separation device, dosing device.
As shown in Fig. 6, the oil-cement three-phase separation secondary filtration device and the standby fine processing device.
As shown in Figure 7, the water treatment air flotation device.
8, oil, water, mud storage relay device.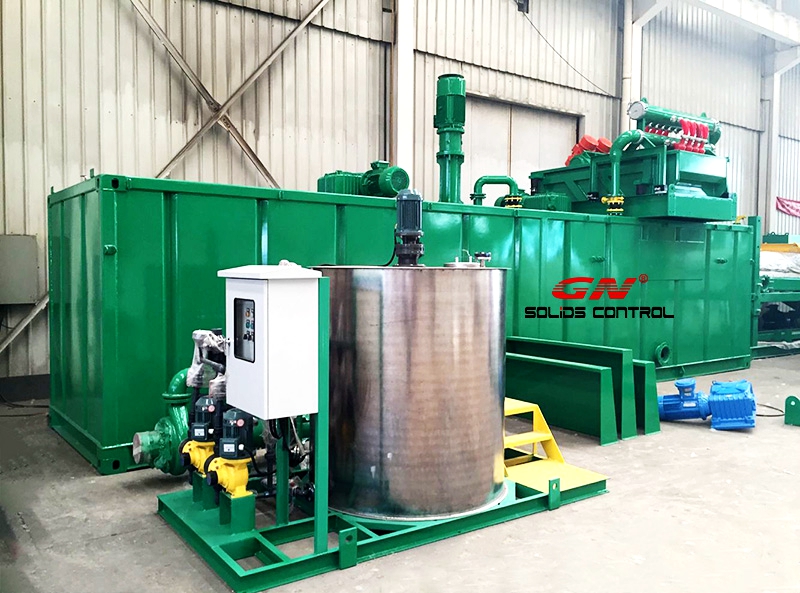 This system can effectively separate the oil substances in the waste and recycle them to improve the economic benefits of customers.
Sludge treatment system treatment process:
The sludge enters the premixing heating and tempering device for heating and emulsification dilution treatment.
The emulsified and diluted sludge passes through a transfer pump and enters a screening and filtering device for coarse filtration to remove large particles, and the liquid is collected into a bottom storage tank.
The sludge liquid of the sieving storage tank is sent to the first-stage fine processing equipment for the first-stage solid-liquid separation treatment.
As shown in FIG.
4, the separated liquid is subjected to the medicinal conditioning to enter the secondary fine solid-liquid separation treatment.
After the treatment, the clean oil is added to the three separation devices through the dosing to carry out the oil and cement three-phase separation treatment.
6, the oil is recycled, and the water is purified by an air flotation device.
As shown in Fig. 7, all of the discharged solids were collected in a concentrated manner, and then subjected to a post-process detoxification treatment.
The core equipment in the system is manufactured by GN solids control to ensure system stability and post-maintenance.
More question,welcome contact GN solids control
Leave a Reply