GN Solids Control is the first manufacturer of mud solid-control equipment in the country to pass the EU CE certification export standard qualification. The EU's export certification standard is undoubtedly a high standard of internationalization. Through years of hard work and practice, GN Solids Control has been unanimously recognized and praised by European certification bodies, and won the continuous orders of European users. GN manufacturing is undoubtedly the first professional manufacturing of China's drilling solid control equipment into the European market. Business. China's high-end equipment manufacturing industry is generally lower than the manufacturing level of European and American countries. Starting late, unable to master the core technology is a high threshold for many manufacturers. GN Solids Control is the first to go abroad and actively learn to innovate. After more than 10 years of efforts, GN produces Equipment has been exported to more than 70 countries and regions around the world.
At present, GN Solids Control has researched and researched various fields in the international market this year, and has developed a variety of mud processing equipments with world-class levels. Centrifugal sand is one of the core products with high standards, high performance and wide use.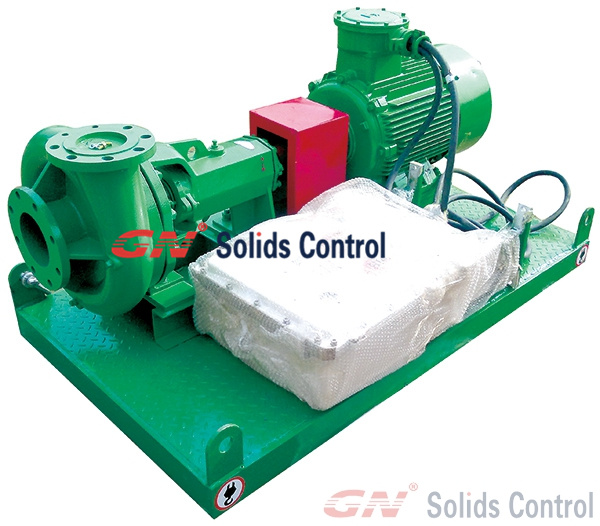 GNSB series centrifugal pumps are mainly used for mud and sewage transportation. They can be used as mud supply for solid-liquid separation equipment, including desanders, desilters, centrifuges, filter presses, filters, mixing funnels, etc. All GN Solids Control centrifugal pumps are mechanically sealed and the wear parts are cast from wear-resistant alloy ductile iron. The base is integrally cast, and the GN centrifugal pump has the advantages of high interchangeability and high universality. The material has high hardness and wear resistance and has a service life of more than 20% higher than that of ordinary sand pumps.
As a widely used pump, centrifugal pumps are used in different scenarios in the global market. GN Solids Control also considers the after-sales maintenance requirements while producing pumps. GN Solids Control's pump parts can be combined with some international brands Li Xin Pump 100% interchangeable to improve pump efficiency
More question,welcome contact GN solids control
Leave a Reply