GN Solids Control is an industry-leading manufacturer of solids control separation equipment and an overall solution provider for drilling waste management systems. GN Solids Control provides hundreds of separation system solutions to customers in many countries around the world every year. At present, GN Solids Control's product line includes a full range of shale shakers, desanders, desilters, degassers, vertical cuttings dryers, decanter centrifuges, vacuum pumps, screw pumps, and sand pumps.
GN Solids Control can also produce different types of chemical dosing systems customized for customers. Recently, the chemical dosing system we ordered for a customer in Africa is a standard container dosing system. This set of dosing system includes PAC dosing device, dosing tank, explosion-proof air conditioner and container. All components are highly integrated to facilitate rapid movement and operation between different work sites. The main components include the following parts:
1. Dosing system
According to the needs of centrifuge processing capacity, GN Solids Control can customize different types of automatic dosing systems for customers. The agitator in the mixing system includes a motor, a reduction box, a shaft and an impeller, which can be used to fully mix the powder medicament.
2. Pharmaceutical mixing system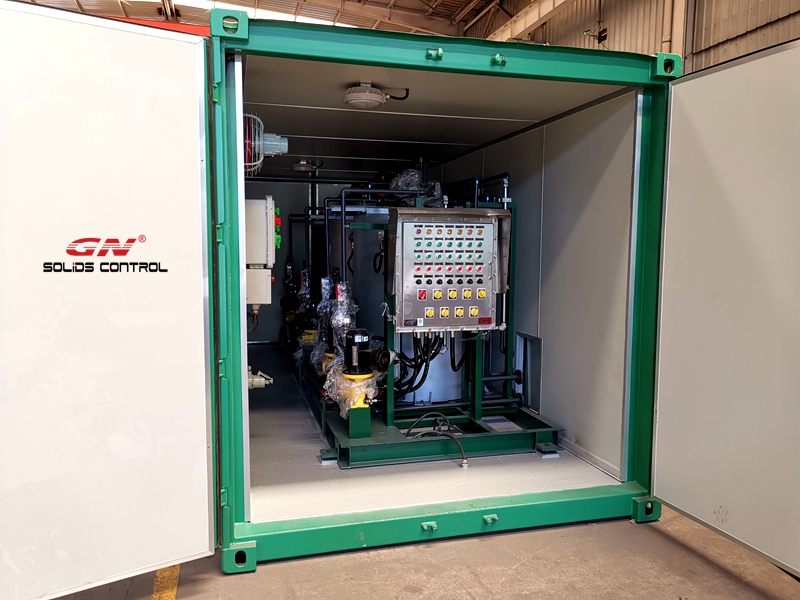 The medicament mixing system is used to provide mixed medicaments for the centrifuge. In this system, the medicine can not only be thoroughly mixed and stirred, but also the PH value in the mixture can be adjusted.
3. Container part
Integrating the operating parts inside the container and equipped with explosion-proof air-conditioning can not only provide a comfortable operating environment for the operators, but also reduce the constraints of weather and environmental factors on the operation, and greatly improve the production efficiency. Received unanimous praise from on-site personnel. More question, welcome contact GN Solids Control
Leave a Reply