About fixing your existing system,our engineers have reviewed your pictures and the desilter drawing,from our experience,the desilter we offer you as in the quotation (GN.8.28 existing system Quotation)will match your existing system.We have ever sold many mud cleaner,desilters,desander for our customer to update or fix their existing system.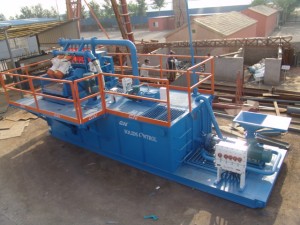 What you need to do to fix your existing system is that you get the customized desilter from us,and link the pipes with it,it's simple work for engineers.
If you provide the CAD design drawings for your existing system,we will be able to provide you another improved CAD design drawing for your system with details how to install the desilter we offer you.That would also make you more clear about whether our desilter will match your existing system.
We just sent out a small drilling mud processing  system to our Kazakhstan customer.We enclosed the picture and drawing for your info.
Our sugesstion for fixing your mud recycle system  is as below:
1,With the above info,If you are still not sure about how to fix the existing system,pls provide your existing system CAD drawing,we design a new install CAD drawing according to it with our new desilter designed for you.
2,If you are not able to provide the existing system CAD design drawing,and you need us to pay a visit to look at your system,it's our pleasure to do it.But we usually do this at our customers expense,the cost including:airline ticket,accommodation etc.
Pls give us your choice,or if you have any questions,pls let us know.
Jessie ,    The biggest problem ( weakness ) with our system is the bottom shale shaker screen which is used for scalping . Even if we run very course screens (50mesh) with say 50US gpms running over it the material comes off wet ( liquid like ) . The drying screen at the top seems to be ok most of the time which we run our 6 x 3″ cones over . The top screen we usually run 150 – 210 mesh screens .
We think our vibrating G forces are not correct , they are 1.5hps motors set with on 100% counter weights .
I think we need flat screen technology with wedges similar to the kemtron models and have 3 decks
The two lower decks being scalpers and top deck a during screen under your six cones .
The basket needs to fully adjustable .
We need to pump very heavy mud at 200 US over the scalping screens to fix the problems .
Our desilt pump will handle 6 4″ cones
How many US gpms will the system in the picture process over the scalper shale shaker screen .
Please find the drawing of our existing mud recycle system . It does not have dimensions but this should give you a better idea .
Warning
: chmod(): No such file or directory in
/www/wwwroot/oilfield.gnsolidscontrol.com/wp-includes/plugin.php(390) : runtime-created function
on line
1
Warning
: chmod(): No such file or directory in
/www/wwwroot/oilfield.gnsolidscontrol.com/wp-includes/plugin.php(397) : runtime-created function
on line
1
Warning
: chmod(): No such file or directory in
/www/wwwroot/oilfield.gnsolidscontrol.com/wp-includes/plugin.php(402) : runtime-created function
on line
1
Warning
: chmod(): No such file or directory in
/www/wwwroot/oilfield.gnsolidscontrol.com/wp-includes/plugin.php(410) : runtime-created function
on line
1
Warning
: chmod(): No such file or directory in
/www/wwwroot/oilfield.gnsolidscontrol.com/wp-includes/plugin.php(415) : runtime-created function
on line
1
Warning
: chmod(): No such file or directory in
/www/wwwroot/oilfield.gnsolidscontrol.com/wp-includes/plugin.php(423) : runtime-created function
on line
1
Leave a Reply