GN focus on manage drilling fluid for rig
Contamination of drilling fluids with drilled cuttings is an unavoidable consequence of successful drilling operations. If the drilling fluid does not carry cuttings and cavings to the surface, the rig either is not "making hole" or soon will be stuck in the hole it is making. The drill cuttings that are separated from the drilling fluid on the surface by the soldis control equipment and some quantity of unrecoverable or economically unwanted drilling fluid are a major source of drilling waste. Drilled and formation solids that are sized smaller than can be removed by the solids control equipment are often reported as drill solids. Some quantitiy of drill solids will accumulate in the drilling fluid and must be removed by the solids control equipment or reduced in concentration by dilution.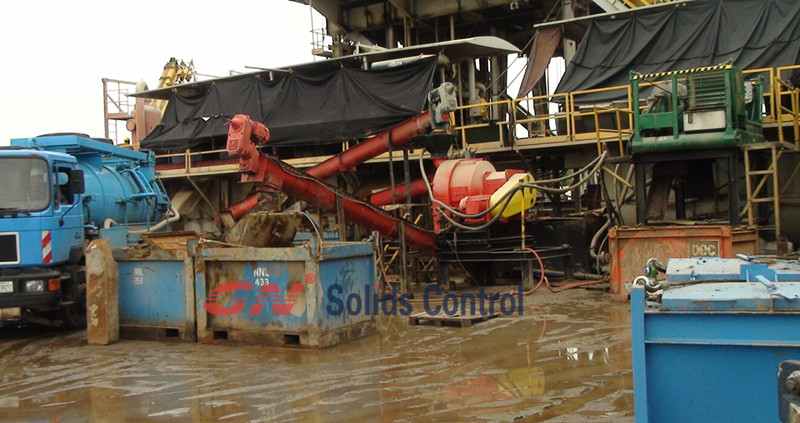 Mainy drilling fluid is WBFs and OBFs
WBFs:Water-based fluids
Water-based fluids (WBFs) are used to drill approximately 80% of all wells. The base fluid may be fresh water, seawater, brine, saturated brine, or a formate brine. The type of fluid selected depends on anticipated well conditions or on the specific interval of the well being drilled. For example, the surface interval typically is drilled with a low-density water- or seawater-based mud that contains few commercial additives. These systems incorporate natural clays in the course of the drilling operation. Some commercial bentonite or attapulgite also may be added to aid in fluid-loss control and to enhance hole-cleaning effectiveness. After surface casing is set and cemented, the operator often continues drilling with a WBF unless well conditions require displacing to an oil- or synthetic-based system.
Oil-based systems were developed and introduced in the 1960s to help address several drilling problems:
Formation clays that react, swell, or slough after exposure to WBFs
Increasing downhole temperatures
Contaminants
Stuck pipe and torque and drag
OBFs:Oil-based fluids
Oil-based fluids (OBFs) in use today are formulated with diesel, mineral oil, or low-toxicity linear olefins and paraffins. The olefins and paraffins are often referred to as "synthetics" although some are derived from distillation of crude oil and some are chemically synthesised from smaller molecules. The electrical stability of the internal brine or water phase is monitored to help ensure that the strength of the emulsion is maintained at or near a predetermined value. The emulsion should be stable enough to incorporate additional water volume if a downhole water flow is encountered.
For better rig work,GN have package solution and equipment for drilling fluids
Leave a Reply