GN Solids Control has rich experience in solid-liquid separation systems, and provides a large number of solids control equipment for oil drilling customers, including centrifugal pumps, decanters, etc.
Centrifugal pumps are mainly used to transport drilling mud. They can be used as slurry supply pumps for desanders, desilters, and centrifuges, as slurry mixing pumps for jet mixing, and as filling pumps for replenishment pumps and mud pumps. All models of GN Solids Control centrifugal pumps feature mechanical seals for long service life and reliable performance. Parts can be interchanged with pumps of internationally renowned brands, so that customers can more easily find wearing parts.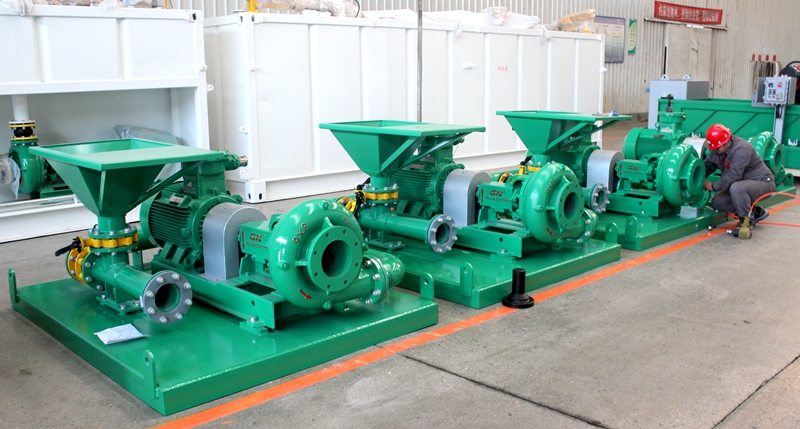 2. Decanter centrifuge
Decanter centrifuge is one of the key equipments for drilling mud solid phase control and drilling waste treatment. The decanter centrifuge produced by GN Solids Control has a variety of drum sizes to choose from, including 9 inches, 14 inches, 18 inches, 22 inches and 30 inches, and each model has different aspect ratios, and fixed frequency , frequency conversion and hydraulic drive three ways to adapt to different processing capacity requirements.
This time, the GNLW363CG centrifuge is provided to the customer, which is driven by a fixed frequency and can meet the requirements of on-site mud treatment. The drum is made of two-way stainless steel SS2205 by centrifugal casting, which has better performance. The wear-resistant sleeve of the slag discharge port is a special tungsten carbide hard alloy sleeve, which has extremely high wear resistance and is not easy to break. At the same time, the pusher is protected by a replaceable wear-resistant alloy sheet, which has a long service life and is easy to maintain.
If you have a demand for solids control separation equipment or a solution request, please call GN Solids Control.
Leave a Reply