As the drilling operation going on, more and more solids will come into the mud, lead to the arising of mud weight. The change of mud weight is not good for drilling operation. Decanter centrifuge is required to remove the solids, and control the mud weight.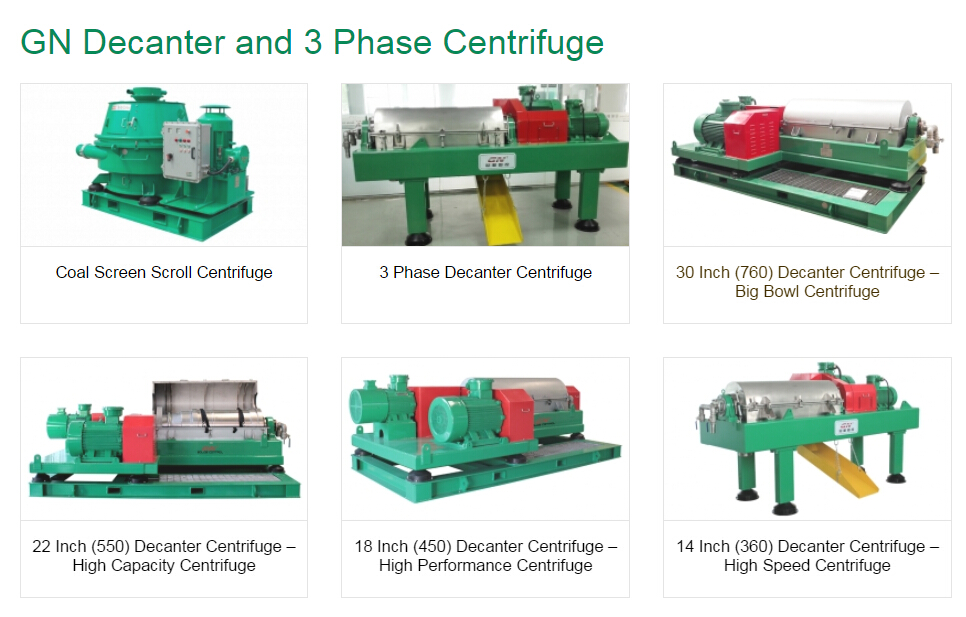 GN Solids Control is China leading brand for oil drilling mud decanter centrifuge. We have different model centrifuge for option, including:
9 inch bowl baby centrifuge, this is popular for mining/ waste water treatment.
14inch bowl high speed centrifuge, this model centrifuge is equivalent to SWACO 518 centrifuge / Derrick DE1000 centrifuge. Fixed speed centrifuge and variable speed is available per the client's request
18inch bowl big volume centrifuge, this model centrifuge has two options: GNLW452 and GNLW453. The two option centrifuge is used differently. GNLW452 is very popular for HDD drilling, or for barite recovery; GNLW453 variable speed can be used for fast drilling
22inch bowl big capacity centrifuge, this is only GNLW553-VFD centrifuge for tunneling or other field fast drilling.
30inch bowl centrifuge is designed for industry application.
For oil drilling application mud weight control, we recommend fixed speed GNLW363CG 14inch bowl centrifuge for better option.
Firstly, fixed speed centrifuge is much easier for operation than variable speed centrifuge.
Secondly, we can offer 2700RPM bowl speed centrifuge, 3200RPM pulley with belt as backup.
Lastly, the fixed speed centrifuge is much better price than variable speed centrifuge.
Centrifuge feed pump, we recommend screw pump, positive displacement pump. The pump motor is controlled by the centrifuge control panel.
Telescopic skid is for option. The client can compare the price from GN, and local fabrication price.
Except for centrifuge, vertical cuttings dryer is another popular item for oil drilling waste management. The client needs it to recover the valuable oil based mud and return it back for drilling operation. We have two options: GNCD930 series cuttings dryer and GNCD730 series cuttings dryer. The client can choose the proper model per request.
Warning
: chmod(): No such file or directory in
/www/wwwroot/oilfield.gnsolidscontrol.com/wp-includes/plugin.php(390) : runtime-created function
on line
1
Warning
: chmod(): No such file or directory in
/www/wwwroot/oilfield.gnsolidscontrol.com/wp-includes/plugin.php(397) : runtime-created function
on line
1
Warning
: chmod(): No such file or directory in
/www/wwwroot/oilfield.gnsolidscontrol.com/wp-includes/plugin.php(402) : runtime-created function
on line
1
Warning
: chmod(): No such file or directory in
/www/wwwroot/oilfield.gnsolidscontrol.com/wp-includes/plugin.php(410) : runtime-created function
on line
1
Warning
: chmod(): No such file or directory in
/www/wwwroot/oilfield.gnsolidscontrol.com/wp-includes/plugin.php(415) : runtime-created function
on line
1
Warning
: chmod(): No such file or directory in
/www/wwwroot/oilfield.gnsolidscontrol.com/wp-includes/plugin.php(423) : runtime-created function
on line
1
Leave a Reply