GN Solids Control produce centrifuges in batches, each batch 20 sets /10 sets per the marketing feedback. Recently, we have another 10 sets centrifuge under production, the 10 sets collection box and 10 sets belt cover is finish. After the bowl material and screw conveyor material finish, the workers will assembly the different parts and finish the centrifuge production.
GN Solids Control as leading manufacturer for solids control equipment & drilling waste management equipment, centrifuge is No. 1 important equipment for all. The high speed variable speed centrifuge work for fine solids separation from heavy mud can display the company's strength in solids control field.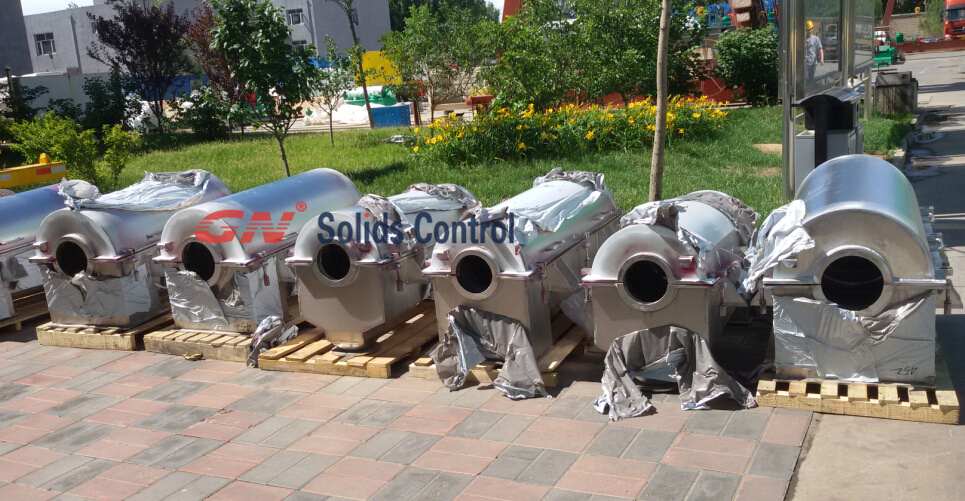 GN successful marketing case for reference:
1) Over 40 sets fixed speed & variable speed centrifuge for oil drilling rigs, to treat the heavy mud. The mud service company buy it and give service to drilling company
2) Over 10 sets half fixed speed centrifuge & half variable speed centrifuge working for oil drilling rigs, the drilling company buy it directly from us.
3) Baker Hughes, the one of the largest oil service company from USA, bought 4 sets variable speed centrifuge as test order last year. This year, they are trying to buy another 20 sets centrifuge with 20 sets vertical cuttings dryer to give service in Middle East & Russia & South America.
4) SINOPEC in China bought 3 sets centrifuge recently, with 3 sets High G drying shaker, as test order to treat the heavy drilling mud, for water based mud. Another 20 sets centrifuge is coming for no pit drilling projects.
GN vertical cuttings dryer is also very important equipment for drilling waste management. GN Solids Control vertical cuttings dryer is verified in many different jobsite with different drilling waste conditions. The dryer can treat different drilling waste in good performance. Pls check more information from GN website.
GN centrifuge, GN variable speed centrifuge, GN fixed speed centrifuge
Leave a Reply