The GN solid-controlled armoured waste slurry treatment system is a circulating purification and armor treatment system for waste mud designed and manufactured by GN engineers according to the user's requirements and according to the customer's requirements for the treated mud. The main core equipment of this system is GNZS594E-HB for coarse particle screening or high-speed decanter centrifuge with same level shale shaker and GNLW363C-VFD (with 20-foot flocculation dosing system to improve the treatment effect of centrifuge), and system Supporting feed screw pump, armor processing tank, agitator, etc. According to the specific requirements of the customer for the discharge, different flocculating agents can be adjusted to ensure that the discharge meets the customer's expected treatment effect.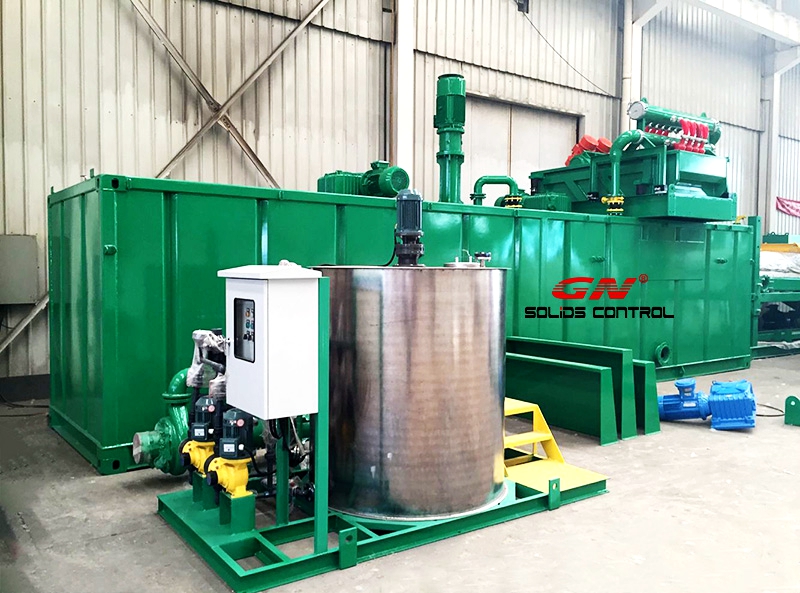 System composition and parameters:
The system has two warehouses: one is a premixed screening bin, and the other is a centrifuge liquid collection bin; the entire system is centrifuged to remove most of the solid particles above 2 μm.
The premixed screening bin is equipped with a stirrer and heating pipeline to ensure sufficient mixing of the feed and improve the mixing degree of the demulsifier. The same four can be used together with other equipment.
System design mud processing capacity: 30 m3 / h, adapt to the environment: -15 ° ~ 50 °
Adapt to mud viscosity: ≤45 S
Adapt to climatic conditions: rain, snow, fog weather.
Continuous operation at rated power for improved work efficiency.
Working height range: It can work normally at altitude ≤ 2500 m, and it can work effectively when the altitude is ≥ 2500 m.
All equipments in the system are mature technology new products, and the technical performance meets the relevant requirements of SY/T5612-2007 "Code for Design of Solid Dose Control Equipment for Petroleum Drilling Fluids".
The actual principle requirements of the whole system: the whole machine is reasonable in design, compact in structure, flexible in combination, advanced in technology, convenient in operation and maintenance, and safe and reliable in performance.
The system is easy to dispatch, transfer and transport, and can meet domestic and international road transport regulations.
More question,welcome contact GN solids control
Leave a Reply