Recently, GN Solids Control completed the manufacturing orders for a batch of solid control equipment from customers in Uzbekistan. These devices are now undergoing final factory inspection and test operations, and these devices will then be sent to Uzbekistan. Today we take a look at what GN Solids Control has for customers that are designed for use in solid-state equipment operating at low temperatures and cold temperatures.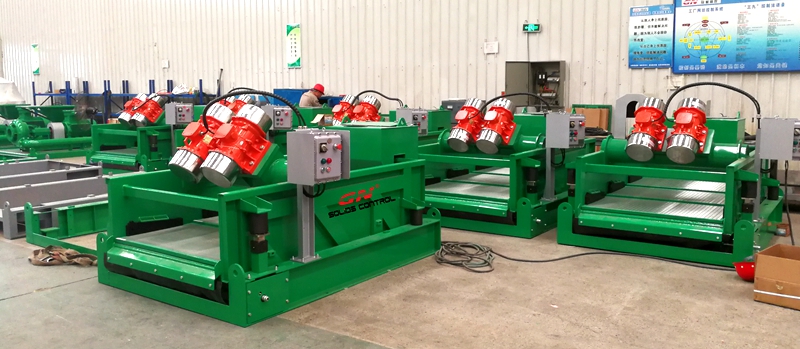 Shale Shaker and mud cleaners are the first and second stage separation devices in the solids control system. It is understood that the drilling fluid used is back from a large number of drilling debris in the well. A vibrating screen is used to remove coarse chips from the drilling fluid. The mud cleaner of the subsequent equipment is to separate finer-sized cuttings.
A vibrating screen is a solid particle separation device that separates the liquid phase from the liquid phase based on the diameter of the cuttings and the pores on the screen. The mud cleaner uses a centrifugal principle to separate solids and liquids.
GN-type cuttings vibrating screen and mud purifiers are the leading solid-state control equipments in China and have the following advantages.
1. The structure of the vibrating screen is simple, but it is heat-treated in the production process to achieve the purpose of structural strengthening.
2. There are additional horizontal beams on both sides of the vibrating screen deck to withstand higher G forces.
3. The vibrating screen mesh adopts composite material frame, which has long service life and large screening area.
4. The bottom frame of the vibrating screen frame is made of stainless steel.
5. The composite damping spring is covered by rubber to prevent rust and protect the operator's operation.
The centrifuge is a GNLW363 model with a drum diameter of 14 inches and a maximum working speed of 3200 RPM. This model is a very popular model in the drilling fluid recycling and waste cuttings market in the petroleum industry. The drum material is duplex stainless steel 2305, which has better processing performance than SS316L. The spiral is protected by a tungsten alloy, and the solid discharge port is made of a hard alloy material, which prolongs the service life of the equipment, reduces maintenance, and brings greater benefits to the user.
More question,welcome contact GN solids control
Leave a Reply