Many of GN clients use Ditch Witch rig and buy mud cleaning system from GN. Unlike other China Solids Control companies, they mainly only focus on oil gas drilling multitank big system, GN Solids Control is the most professional for compact Mud System for HDD or CBM in China.
Ditch Witch complete directional drills package including directional drilling rigs, fluids management system, drill pipe, and integrated electronics that enable the tracker operator to disable power to the drilling unit's thrust and rotation.  Ditch Witch compact directional drilling rigs are ideal for small contractors and designed for easy setup on jobsites once considered too tight for directional drilling.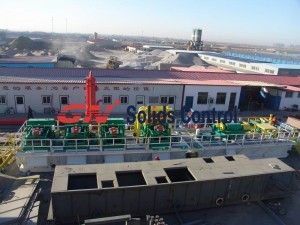 GN Solids Control design and manufacture complete equipments for HDD (Horizontal
Directional Drilling) and CBM(Coal Bed Methane) drilling mud recycling system of :
150GPM / 350GPM / 500GPM / 800GPM / 1000GPM / 1500GPM /2000GPM.
GN150gpm mud system is specially designed for separating drilling cuttings from drilling mud within no dig processes. Due to the mini container dimensions, the mud recycling separation plant guarantees minimum setup times and an easy transportation. The mini system has been ready for operation on site and GN will dispatch engineer to provide first installation and commissioning to save customer's time and connection work.

GN mud cleaning/recycling system sold very well in Australia market,  unlike USA companies,GN is a best Choice for Australia companies for "TOP Quality,But Reasonable Price,and Assured services". As we know, No other China competitors for us in Australia Market.We compete with Kemtron,Mudtech,Tri-Flo,DFE.
Welcome to contact with us if you have any inquiry.