Many China drilling contractor or oil service company have business in Africa, they bring the high technology there, help the economy development of the local market, and improve the lift of local people.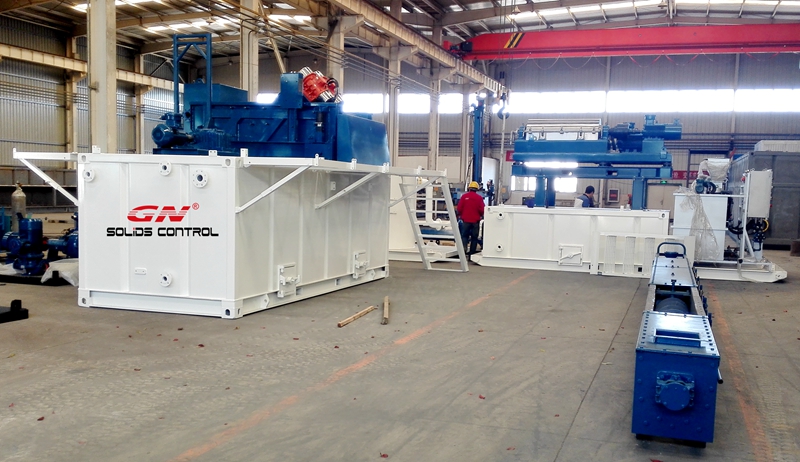 Recently,  one China government company CNPC have get some project in Africa, and give purchase order to buy drilling waste management package from GN Solids Control.  The package including below items:
1) Mud tanks with High G drying shaker
GN High G drying shaker is very popular to treat the water based mud drilling cuttings discharged from shale shaker. The patent 4 panel shaker is replacement for Swaco Mongoose.
If for oil based mud, vertical cuttings dryer will give much better working performance. However, the purchase cost and maintenance cost of Vertical cuttings dryer will be much higher than High G drying shaker. The client can make decision based on the Mud condition, budget and the special requirement from the owner.
2) Mud tanks with decanter centrifuge & flocculent unit
The WBM drilling cuttings, after treatment of High G drying shaker, the separated liquid should be transfer to decanter centrifuge for 2nd step treatment. GN decanter centrifuge have different model for option. The most popular model is 14inch bowl centrifuge GNLW363.
This decanter centrifuge is equivalent to Derrick DE1000/ Swaco 518. And we have fixed speed type and variable speed type for option.
If ultra fine solids in liquid cannot be separated by centrifuge, flocculent unit is required to coagulate the ultra fine solids to big particles, then separated by centrifuge.
3) Auxiliary equipment, including screw conveyor, transfer pumps, feeding pumps, is included for the package.
Except above part, GN can offer different model shaker screens to replace the expensive screens from original seller. The screens including:
GN replacement screen for Derrick FLC500 shaker, Derrick FLC2000 shaker;
GN replacement screen for Swaco Mongoose shaker
GN replacement screen for NOV brandt king cobra shaker /VSM shaker
……