As GN drilling waste management system is working well for Russia clients, this is the fourth containerized type drilling cuttings management system sent to Russia oil Service Company. Big Clients from Russia always prefer this containerized design that could make all equipment indoor, to avoid the cold surroundings and ensure the machinery running smoothly in cold weather. Operator could run the equipment inside, and this standard container type is also convenient for transportation by sea.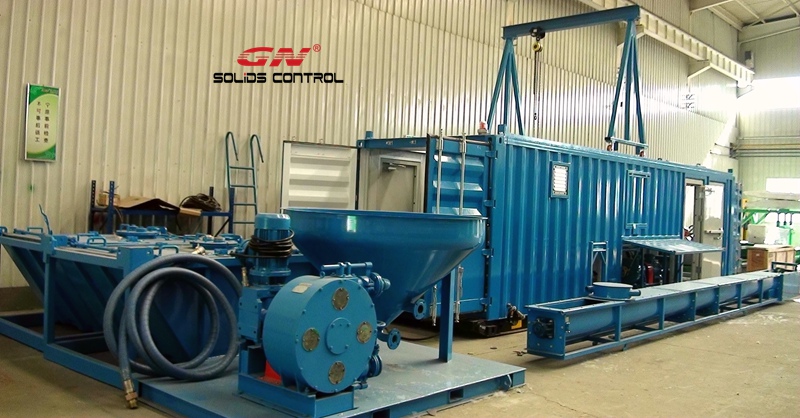 Vertical cuttings dryer is one of the important equipment for waste cuttings management system. The waste slurry can be separated into much dryer solid discharges and recover liquid after treatment of cuttings dryer. The cuttings dryer unit in this project is 4th generation model dryer with normal RPM of 900, equipped with air knife system and flushing system for cleaning of screen and liquid discharge ring during equipment running. This can also be used to avoid block inside the cuttings dryer.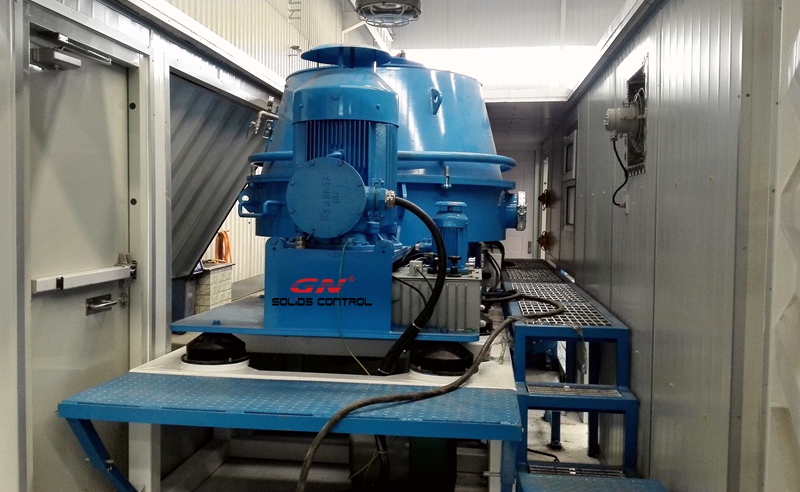 Vacuum cuttings pump is used to transfer the waste material into the vertical cuttings dryer. The advantage of using the Vacuum cuttings pump is less limitation to locate it and this type pump works very well for high density waste transportation. As backup, we also provide one set screw conveyor for feeding the cuttings dryer in case the cuttings pump not fit for some special cuttings. Another set Screw conveyor is also provided to install under the dryer unit to transfer the solid discharges out to the container.
After treatment of cuttings dryer, the recovered fluids need to go to centrifuge for further treatment. The high speed Decanter centrifuge with bowl speed up to 3200RPM separation points can be about 5-10microns. Centrifuge can separate much fine solids with bowl speed range 2700RPM to 3200RPM. We match variable speed VFD control panel for easier operation. With PLC touch screen, the operator can adjust the centrifuge bowl speed, differential speed and pump feed speed very easily.
Additional, there is waste cuttings skip to collect the cuttings coming from the conveyor. This cuttings skips is also design and made by GN Solids Control with cover for hazardous material further transportation.