GN Solids Control can supply kinds of centrifuge used in slurry treatment of drilling, coring, tunneling, dredgging, mining and so on. It can be used in a complete system or separetely. One popular one is variable frequency drive centrifuge GLW355x1250N.
Specifics of GLW355x1250N
Drum diameter:     355mm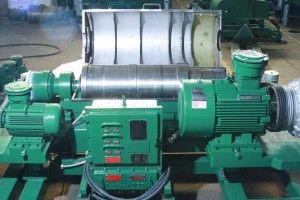 Rotary Speed:     0~3200r/min
Separation factor:  ≤2035
Separation point:  ≥2μm
Main power:        37kw-4p
Assistant power:   7.5kw-4p
Max capacity:     ≤40m3/h
Control Panel of VFD Centrifuge
The motors and the feed pump are controled by the control panel. Also the speed of the motor also bowl and scrool are also controled by the panel.
Two Motor Machanical Scrool Drive System Continue reading »