As sales for Africa region, we follow the Africa clients who have potential requirement for solids control equipment, mud system, shaker screen, or other related spare parts. One Africa Drilling Company send inquiry to us from early of 2016. From then, we continuously follow the client, to offer quotation, mud system drawing, answers for many questions. After about one year communication, we finally got the purchase order. It is one 500gpm trailer mounted mud system with shaker; mud cleaner and other necessary solids control parts.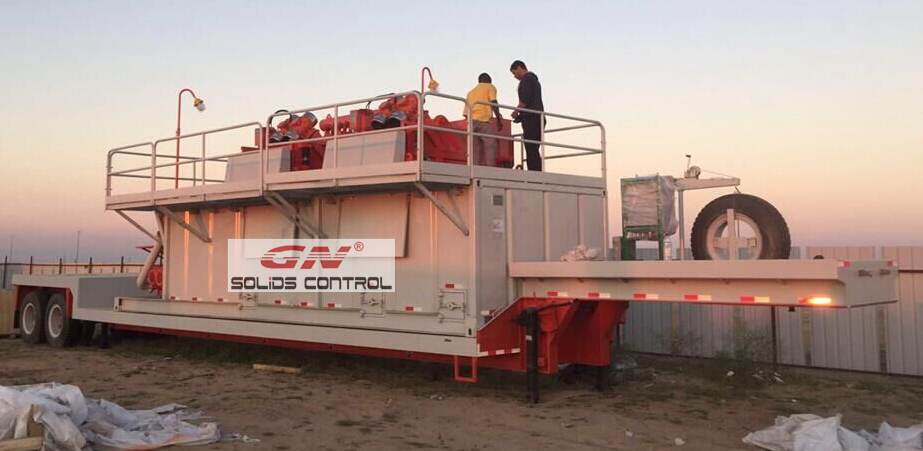 Details of the system configuration as below:
1) GNZS703 shale shaker, with composite material shaker screen to ensure the longer working time and better separation performance.  The shaker is equipped with Italy OLI brand motor, much reliable than other brand. The shaker screen is locked by wedge, which is easy to install and dismounting, save time when replace the shaker screen.
2) GNZJ703 Mud Cleaner. The mud cleaner is combination of three unit, including down deck shale shaker, desander and desilter assembly. The down deck shaker is same as GNZS703 shale shaker, but with higher API size screen (API 120, API 140 etc.).  The desander and desilter are made of PU material, much anti-corrosive material. The raw material and design are almost same, just the size is different. The desander is 10inch and desilter is 4inch.
3) Other necessary solids control equipment including mud agitator, mud gun, centrifugal pump etc. The mud agitator is used to suspend the heavy solids in mud to avoid settlement, and the mud gun can be used to flush the tank when finish work. The centrifugal pump is used to suck mud and feed to desander cones and desilter cones.  The two sets centrifugal pump will consume most power in the system.
4) All above mud equipment will be installing on trailer mounted mud tank. The mud tank is building and welding on the lower trailer chassis, easy for short distance movement.
If you are in need of any trailer mounted mud tank system, pls contact GN freely.