GN decanter centrifuge with tungsten alloy tiles screw conveyor can have a much longer lifetime with good working performance. The Ex-proof control panel with positive pressurized air can keep inside lower temperature, and keep it clean without dust and keep it dry; all the features make the centrifuge & VFD control panel good performance and less maintenance.
One client from Africa, they bought 2 batches decanter centrifuge from us in past 3 years. The client is local land rig drilling contractor with 7 land rigs. They use the centrifuge for solids control, each rig need two sets centrifuge, the client have their own centrifuge from us, and they also rent some centrifuges locally.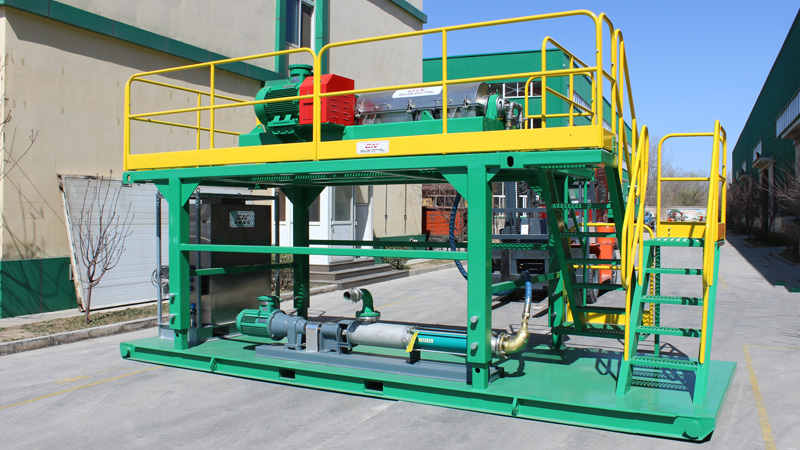 Recently, we have got news from the clients that they are doing some maintenance for the VFD control panel and are faced with some challenges.
Challenge 1: the centrifuge cannot separate anything
Challenge 2: the PLC control panel don't display correct rotation speed value as reset
Challenge 3: The centrifuge motor don't rotate in correct direction
After several times discussion by email and by phones, we are clear that all the disorder is because of the electrical components in the VFD control panel which have been replaced by client is not working in correct mode. After we give instruction on how to adjust the Omren module components in the Control box, the centrifuge can work in correct mode as before.
The centrifuge motor rotation direction is also very important to the centrifuge performance. If the rotation direction is not correct, it will not remove solids and will not work normally. We have direction arrow in red stick on the motor end, it is much necessary for client to check the rotation direction before test the centrifuge.
Except for centrifuge, GN Solids Control also provide all line of solids control equipment, like shale shaker, mud cleaner, mud agitator, mud gun, shear pump, screw pump, slurry pump, mud tanks etc.
For drilling waste management, the products line including: vertical cuttings dryer, thermal desorption unit, fixation unit, screw conveyor etc.