GN Solids Control have some equipment ready for delivery recently.  See below List:
1) two sets poor boy degasser ready for delivery to Indonesia
2) one set cuttings dryer equipment ready for delivery to North-West of China
3) one set drilling waste management system ready for delivery to western Africa
4) one set framwork decanter centrifuge ready for delivery to North Africa
GN Decanter Centrifuge
GN Solids Control Framework Decanter centrifuge is easy for lifting when loading and unloading. The Netzsch brand Nemo pump for feeding centrifuge also mount on the skid, thus make it as compact unit. The end user use this for waste water treatment.  See below of technical specifications.
Centrifuge model: GNLW363BG-VFD
Centrifuge type: high speed & variable speed centrifuge which can be used for fine solids separation (drilling waste management); mud weight cuttings (solids control); barite recovery (solids control);
Centrifuge production material:  Bowl cylindrical and conical section production material- duplex stainless steel 2205 by centrifugal casting; Other parts of the bowl assembly production material – Stainless Steel 316L. Screw protection production material – Tungsten Carbide alloy tiles for longer life. Genuine SKF bearing for better working performance and longer time.
GN Solids Decanter Centrifuge working video at jobsite: http://www.gnsolidscontrol.com/video/water-based-mud-decanter-centrifuge-argentina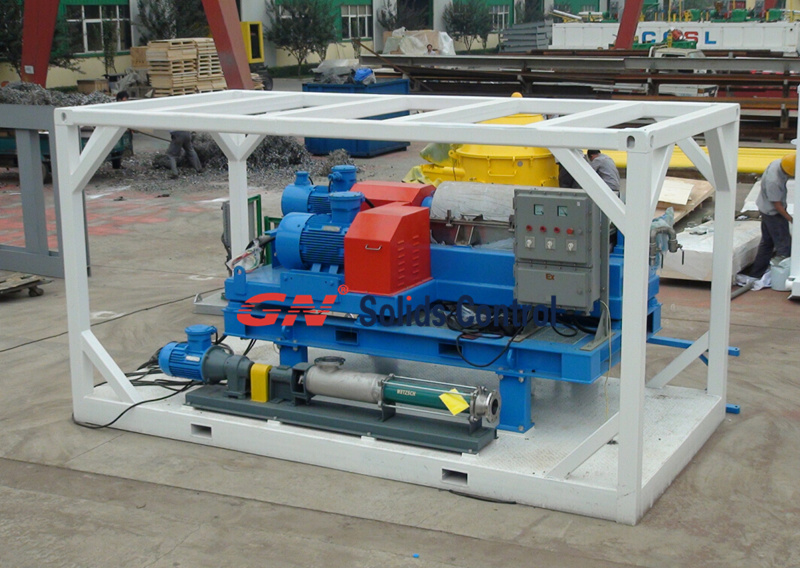 GN vertical cuttings dryer
One set cuttings dryer equipment is ready for delivery to North-West of China customer. The customer use the Vertical cuttings dryer for oil sludge treatment. They are famous oil service company. Most of the project is from CNPC.  GN 2nd Vertical cuttings dryer with below points technical specs.
Dryer model: GNCD930C
Dryer type: middle speed & fixed speed vertical dryer which can be used to recycle the base mud from the drilling wast. Thus, to promote the use efficiency of drilling mud.
Dryer is equipped with air line, scraper and basket screen. The air line need a stable and strong air to blow the screen basket during working.
GN Solids Vertical cuttings dryer working video at jobsite:  http://www.gnsolidscontrol.com/video/vertical-cuttings-dryer-water-based-mud-drilling-waste