How mud tank works, it is a very easy question, but it contains some good questions behind, so we get all these resolved. First we should know the feature of mud tanks, than the components, how it works in the solids control system, what the main fuction is, last but not least how to clean the mud tank.
Mud Tank Feature
A mud tank is an open-top container, typically made of steel, to store drilling fluid on a drilling rig. They are also called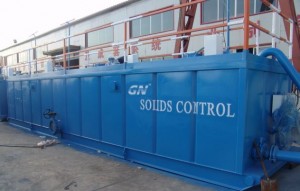 mud pits, because they used to be nothing more than pits dug out of the earth. The mud tank is devided into Square tank and Cone-shaped tank according to the shape of tank bottom. The body of the tank is made of welding the steel plate and section, using the flat cone-shape structure or the corrugated structure.
Components of Mud Tank
The mud tank surface and the passage are made of the slipping resistant steel plate and linearity netted steel plate which is produced by the professional factory, the mud tanks are made of the side steel pipe, all of the structure can be folded without barrier and pegged reliably. The surface of tank is equipped with water pipeline for cleaning the surface and equipment on the mud tank, we use soaked zinc processing for the netted steel plate. The ladder is made of Continue reading »