Vacuum degasser is one of the most part of solids control system in oil and gas drilling works, GN Solids Control supply the professional drilling fluids vacuum degasser, and also all the solids control equipments. Here is the detailed introduction about vacuum degassing systems, and manufacturers and process patent and so on.
vacuum degasser photoes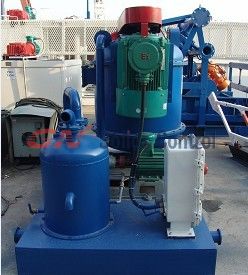 vacuum degassing systems for the oilfield industry
Vacuum degasser is one important part but not a phase of solids control, it is used to separate the gas and drilling fluids for safe and enviorment friendly. It is always installed after the shale shaker, and before the desander and desilter (or mud cleaner).
vacuum degasser manufacturers and vacuum degasser suppliers
Vacuum degasser is produced by solids control equipment manufacturers, take GN solids control for example.
Also there are a lot of manufacuters supply the vacuum degasser, here is one list of the manufacuturers
China Vacuum degasser manufacturer,driling fluids,drilling cuttings vacuum degasser China oilfield vacuum degasser supplier-GN solids control.
GN Solids Control is a vacuum degasser manufacturer from China. Buy are see specifications : Vacuum Degasser the vacuum degasser is a special device.