OTC oil show is coming in May, 2017. GN Solids will attend the show as usual. With base in Houston, GN Solids can prepare the show equipment in GN Solids America warehouse, and transport to the show hall very convenient.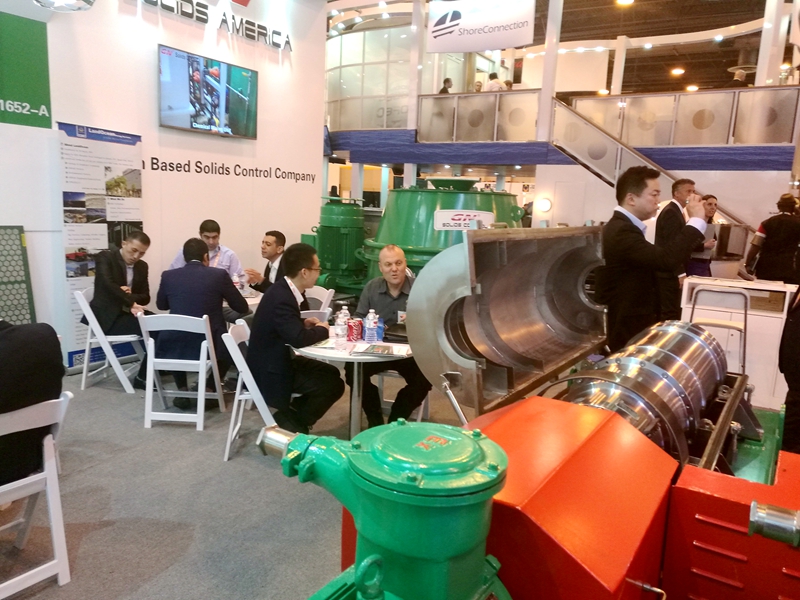 1) GN Solids America
GN Solids America is branch company of GN Solids Control in Houston, US. GN Solids America already working for over 4years; and the clients from North America, South America and Latin America can come to GN facility to check the real product and talk with our sales engineers there face to face, to know more about GN Solids America.
Except for GN Solids America, we have also GN Solids Russia in Moscow, and many partners in different countries to serve the oil drilling market.
2) What GN equipment will be shown for OTC ?
The latest model shale shaker, the shaker is replacement shaker to Swaco Mongoose, with 4 panel composite material shaker screen; popular used for oil drilling mud system.
Hydraulic decanter centrifuge, the decanter centrifuge is 14inch bowl centrifuge, equivalent to Swaco 518 hydraulic centrifuge or Derrick DE1000 hydraulic centrifuge. Similar bowl size, similar treating capacity, and similar driven type
Vertical cuttings dryer, the cuttings dryer is the 5th generation dryer which have been improved based on former model, much more reliable performance and composition parts with better lifetime.
Shaker screen: the popular shaker screen model will be taken to the show, eg. Replacement screen for Derrick shakers, replacement screen for Mongoose shakers, etc.
3) The booth Number of GN Solids America
No.1 Booth.: NRG  Center 1369-6
No.2 Booth: Arena 8834
Before OTC, CIPPE is also around the corner, just in March, Beijing, China. CIPPE is very close to GN factory, and we will freight large bowl centrifuge and other items for show. Hopefully, we can have many clients coming to talk with GN Sales People. Get GN booth number in CIPPE, pls check from GN website.