API RP 13C is the latest labeling procedure for shaker screens. Internationally, API RP 13C is ISO 13501.Now the API Screen Numbers are determined by the D100 separation (Microns).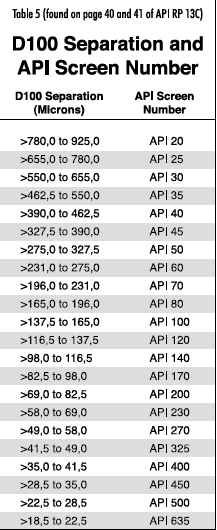 Introduction of API RP 13C
The new procedure API RP 13C is a revision of the previous API RP 13E, which was based on optical measurements of the screen opening using a microscope and computer analysis. Under API RP 13E, screen designations were based on individual manufacturer test methods which produced inconsistent labeling. So it has many different criterion, and when we choose the shaker screen for the shakers, we are easy to get in trouble, even now with the API RP13C, we must convert the old one to the new label, then we can choose the right screen.
How They Test
The API RP 13C test contain two parts: cut point and conductance. It is a current criterion. Used all over the world.The tests describe a screen without predicting its performance.
The cut point test is based on a time-proven testing method used by ASTM to classify particles by size.
The D100 separation is used for assigning screen designations. D100 means that
100 percent of the particles larger than the test screen will be retained, and all finer particles will pass through.
How to Find the Right Replacement Shaker Screens Continue reading »