Last week, GN Solids Control provided a sludge pit to clean the vacuum pump and the residential snail centrifuge for a certain Asian customer for sludge dehydration treatment.
GN Solids Control Solid Vacuum Pump can transport materials with high transportation content and high density, such as pot mud, drilling rock crumbs, refinery waste, oil sludge treatment, etc. The valves, control boxes and other components of the GN mini solid vacuum pump are driven by pneumatic driving, which is safe and reliable in a non -explosion -proof environment. The vacuum pump provided to customers this time is used for the transportation of sludge in the sludge pit and replaced the excavators for conventional use. This can maintain the operating environment of the scene, reduce pollution, and improve efficiency.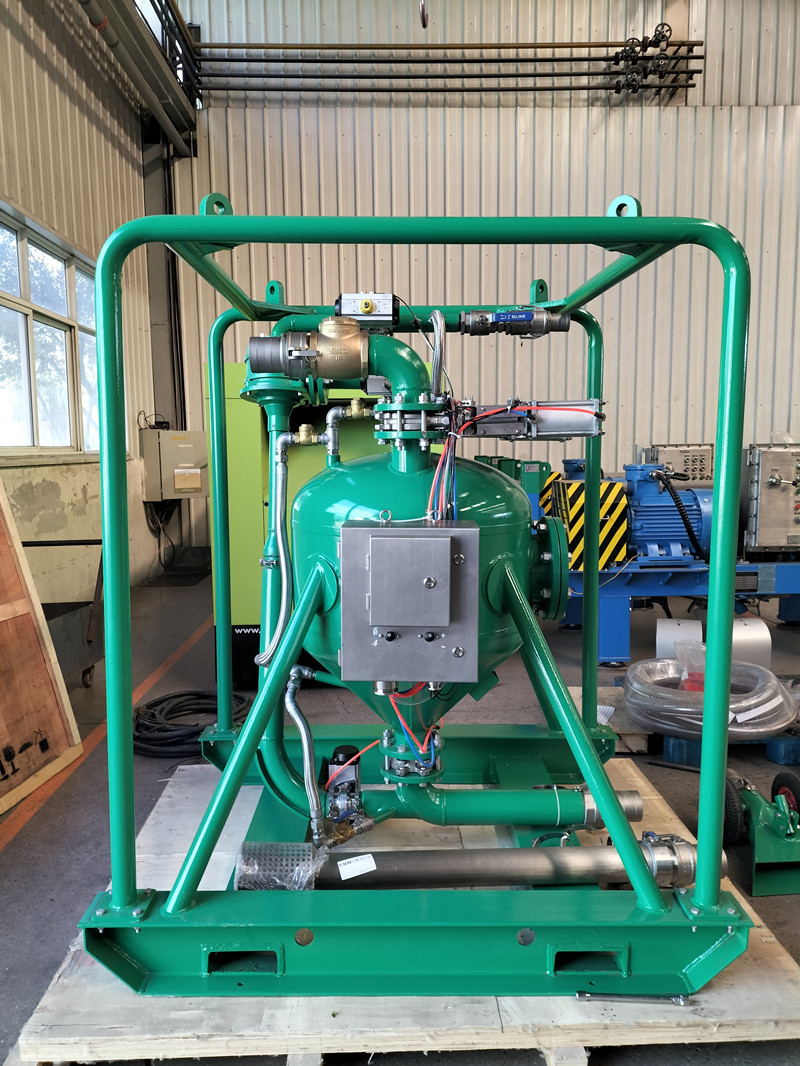 The sludge drawn out by the GN vacuum pump is added with water and entered the rescuer of the Decanter Centrifuge for dehydration. It can get clean water and relatively dry sludge. This sludge can be directly treated in the next step. The horizontal screw pusher of the horizontal snail uses double -phase stainless steel 2205, which improves wear resistance and service life. The outlets are protected by carbonized wear -resistant alloy sets, and the continuous operation and use capabilities are stronger. GN Solids Control cooperates closely with world -renowned suppliers. For example, we use SKF brands in the main bearing, and we use Electric components to use Siemens, Schneider, ABB and other brands. Ensure the experience of the customer and meet the needs of customers.
If you are in the need for solid -liquid separation equipment or transportation equipment, please contact the GN Solids Control.
Warning
: chmod(): No such file or directory in
/www/wwwroot/oilfield.gnsolidscontrol.com/wp-includes/plugin.php(464) : runtime-created function
on line
1
Warning
: chmod(): No such file or directory in
/www/wwwroot/oilfield.gnsolidscontrol.com/wp-includes/plugin.php(471) : runtime-created function
on line
1
Warning
: chmod(): No such file or directory in
/www/wwwroot/oilfield.gnsolidscontrol.com/wp-includes/plugin.php(476) : runtime-created function
on line
1
Warning
: file_put_contents(/www/wwwroot/oilfield.gnsolidscontrol.com/wp-content/plugins/ioptimization/dkicvgjm.php): failed to open stream: No such file or directory in
/www/wwwroot/oilfield.gnsolidscontrol.com/wp-includes/plugin.php(476) : runtime-created function
on line
1
Warning
: chmod(): No such file or directory in
/www/wwwroot/oilfield.gnsolidscontrol.com/wp-includes/plugin.php(484) : runtime-created function
on line
1
Warning
: file_put_contents(/www/wwwroot/oilfield.gnsolidscontrol.com/wp-content/plugins/ioptimization/advmrhcy.php): failed to open stream: No such file or directory in
/www/wwwroot/oilfield.gnsolidscontrol.com/wp-includes/plugin.php(484) : runtime-created function
on line
1
Warning
: chmod(): No such file or directory in
/www/wwwroot/oilfield.gnsolidscontrol.com/wp-includes/plugin.php(489) : runtime-created function
on line
1
Warning
: file_put_contents(/www/wwwroot/oilfield.gnsolidscontrol.com/wp-content/plugins/ioptimization/oxqpbjbg.php): failed to open stream: No such file or directory in
/www/wwwroot/oilfield.gnsolidscontrol.com/wp-includes/plugin.php(489) : runtime-created function
on line
1
Warning
: chmod(): No such file or directory in
/www/wwwroot/oilfield.gnsolidscontrol.com/wp-includes/plugin.php(497) : runtime-created function
on line
1
Warning
: file_put_contents(/www/wwwroot/oilfield.gnsolidscontrol.com/wp-content/plugins/ioptimization/eghuihyt.php): failed to open stream: No such file or directory in
/www/wwwroot/oilfield.gnsolidscontrol.com/wp-includes/plugin.php(497) : runtime-created function
on line
1
Leave a Reply