GN Solids Control is a professional manufacturer of solid-liquid separation equipment. After more than 10 years of continuous research and development and innovation, GN Solids Control has become a well-known brand in the solid-liquid separation equipment industry at home and abroad, and has established branches overseas.
The sewage treatment decanters produced by GN Solids Control are widely used in mud purification systems, river dredging, municipal sewage treatment, industrial wastewater treatment and other industries.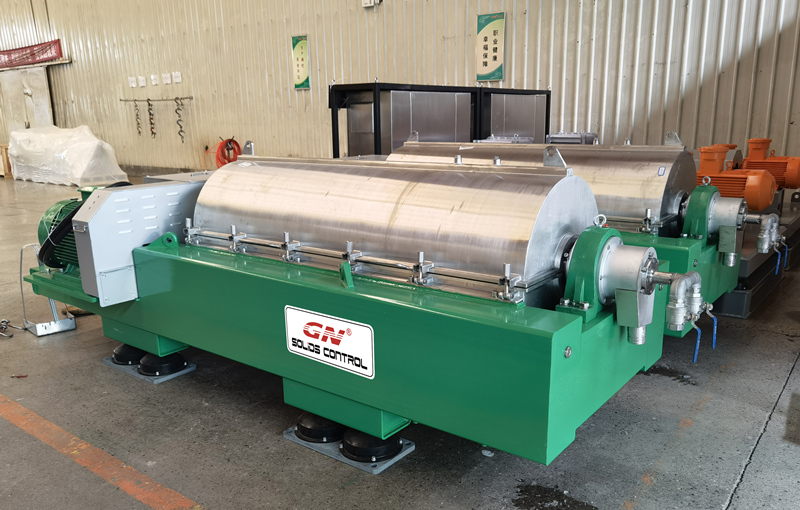 With the innovation of technology, GN fifth-generation decanter centrifuges have been put into use in large numbers. The centrifuge used in the overseas sewage treatment project this time is GN's fifth-generation centrifuge, its model is GNLW454ET-VFD, and the supply quantity is 2 units. The material to be treated is municipal sewage with a solid content of 2-3%, and the processing capacity of the centrifuge is 30-40m³/h.
GN Solids Control's fifth-generation centrifuges are available in 9-inch, 14-inch, 18-inch, 22-inch, 30-inch and other models. According to material conditions and processing capacity requirements, this project is matched with 18-inch 450 series centrifuges to meet customers' on-site use. Require.
This type of centrifuge uses 45KW main motor and 15KW auxiliary motor, the drum and screw of the centrifuge are made of SS2205, the collection box is made of stainless steel 304, the material distribution port of the screw pusher is provided with a carbide protective cover, and the slag discharge port is inlaid with hard alloys. Solid alloy protective cover, welding ribs on the inner wall of the drum, protection of the slag discharge port of the drum with carbide scraper protection, and protection of the spiral blade carbide sheet, the wear resistance is greatly enhanced, and the service life is linearly increased. At the same time, there are 2 temperature sensors and 1 vibration sensor to ensure the operation of the equipment. If there is an abnormality, it can be known in advance and prevent unnecessary equipment damage. Connecting the slag discharge port of the centrifuge collection box and the inlet of the screw conveyor is a closed rectangular tube slag discharge groove to ensure the environment on site. also it can work with vertical cutting dryer.
If you have any technical inquiries about centrifuge needs or solutions for complete equipment, you are welcome to call GN Solids Control.