Solids control system will meet different cutting point when running
Shale shaker use for size>70 micron solid particle as the important part of total system
As the first step,GN shale shaker use linear motion,can remove the big size cuttings,and keep high effectiveness,work for second step of whole system,solid&liquid separate result will effect rest solids control step
The applicable range of drilling fluid vibrating screen:
Ground / offshore oil / gas drilling / CBM excavation / Trenchless Directional Crossing / piling / waste water / mud treatment etc., primary and two or three stage solids handling of mud and liquid to be treated. mostly, it is the primary treatment of mud and solid liquid mixtures applicable to various environments.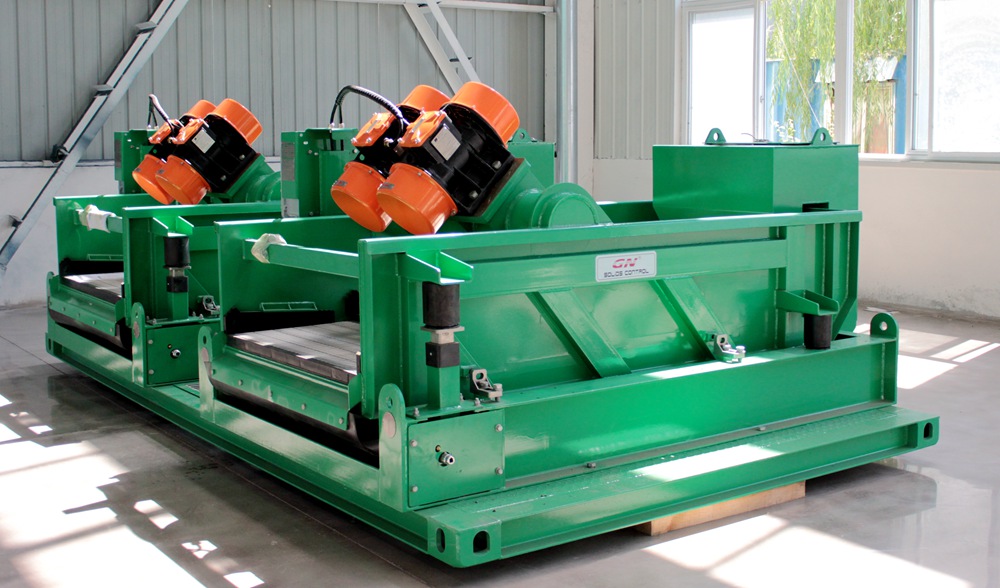 Function
The performance can be expected and operation direct to watch . Shale shakers provide the advantage of not,easy manage and maintain,shale shakers can produce a sure dry cuttings discharge.equipment's main job is remove as much solids as possible and reduce the solids loading to the next level, the shale shaker is the primary solids removal device. It is usually relied upon to remove all drilled cuttings coarser than the weighting material. Downstream equipment will often remove too much valuable weighting
Numbers shaker should be installed to process the whole circulating with the target of removing as much drilled cuttings as economically feasible. because as the important part of the system, need arrange enough quantity shale shaker and put at suitable place to achieve optimum economic performance of the solids control system.
The working principle
mainly by the screen frame, screen exciter, damping element composed of drilling fluid shaker, by the mechanical vibration is bigger than the mesh of solid and solid adsorption by mesh sieve out some less than. The drilling fluid returned from the well head flows from the feed tank to the surface of the vibrating screen. The solid phase is discharged from the tail of the screen and contains a liquid phase smaller than the solid phase of the mesh. The sieve flows into the drilling fluid system to complete the separation.
Safety operation of shale shaker for drilling fluid:
It must be determined that the transport locking device is removed prior to use. The equipment can not be repaired, moved or even removed by the use of the vibrating screen. The equipment shall be operated and maintained according to the safety instructions and warning signs given on the equipment.
Maintenance of mud drilling fluid vibrating screen:
According to the vibration motor safety warning, the motor rules, reasonable maintenance, such as filling lubricating oil, etc.;
In the process of use, the screen should be carefully observed, inspection and so on. The damaged screen mesh and the completely damaged screen shall be repaired or replaced in time;
Make necessary cleaning of vibrating screen and screen so that the screen can have a longer life, after each end.
In order to make the use of vibration screen to achieve the best, regularly and systematically monitor the overall situation of the vibration sieve and maintenance.