GN Solids Control main business is in oil drilling & HDD field, for drilling mud system and waste management. For smaller percentage business, GN get it from piling, mining and road construction which require compact and small mud system to clean and recycle the mud. GN offer desanding plant to achieve the target for client.
Recently, we just ship 3 sets desanding plant to one piling client to Southeast Asia. The client issue the PO in the beginning of November and come to GN factory for the inspection. The purchased desanding plant model is GNMS-1000D, with 2ea 10inch desanding cyclones to reach up to 1000gpm treating capacity.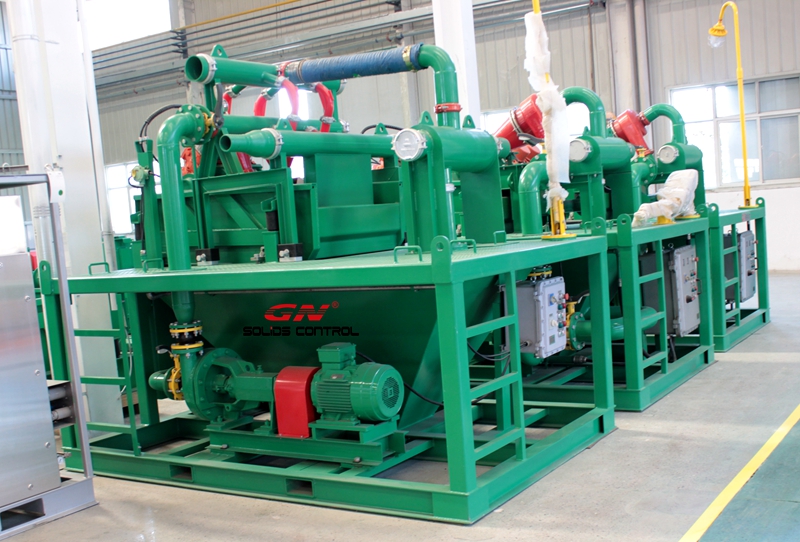 Actually, we attended Bauma exhibition last month, bring the desanding plant there for show. Many clients with piling projects, mining slurry water project, road construction etc. came to GN Solids booth for consulting.
One client from Mexico, they have Derrick desanding plant for the mining slurry process for now. The performance is very good, price is also very higher. The client is trying to find equivalent equipment with lower cost. After we have short meeting to discuss on the working flow, the client is very satisfied with GN desanding plant and also price. He promised to buy one set very soon for test.
Another client from Australia is doing HDD project, he want to find HDD rig and mud system from the show. After he knows GN, we recommend good brand HDD rig company and GN mud system. With quite a lot HDD project list brochure for China and Australia market, the client is convinced that GN can supply good product and high quality service to him. Very soon, the client bought one sets 500gpm mud system for project.
One client from Marocco are needing separation machines to treat the slurry from mining operation. And we quote to them in the show directly. Technical evaluation is under process, and we are waiting for positive feedback from client.