Even the oil drilling market is very down, we still can receive some purchase orders from old clients. Recently, we finish production for waste management system, and is exporting to Uganda, Africa now. China Oilfield Services Limited (COSL) bought the equipment and doing drilling operations there.  The project including below items: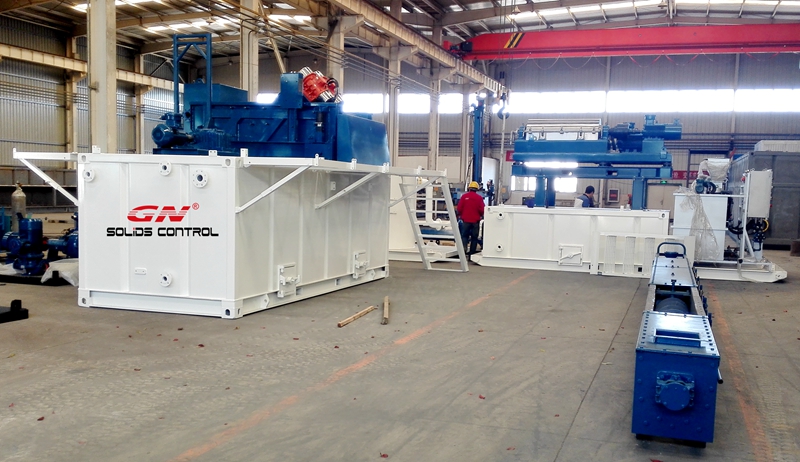 1) High G dryer with collection tank beneath.
The High G dryer is GN 4 panel shale shaker with up to 8G vibration motor, and 4pcs composite material shaker screen. The high G force and longer deck can make the solids discharge much dryer, which is easier for transportation.  The clean mud will drop down to the beneath catch tank.
2) High speed decanter centrifuge with mud catch tank
The decanter centrifuge is GN 14inch high speed centrifuge, which is the most popular model for oil & gas drilling. The 14inch centrifuge is equivalent to Swaco 518 centrifuge or Derrick DE1000 centrifuge. Many client used Swaco/Derrick centrifuge before, and shift to GN after knowing GN strength and high quality of GN centrifuge.
The high speed centrifuge can be set to 3200RPM, which can separate 2-5microns fine solids. The clean drilling mud drop down to the catch tank below. Then, the screw pump will transfer the clean mud back to drilling active tanks for reuse.
Above equipment system is more proper for water based mud treatment. For oil based mud cuttings treatment, Vertical cuttings dryer will give much better performance. GN vertical cuttings dryer have been put into market for over 3 years. The separation  point is mainly depends on the screen basket, 0.25mm/0.35mm/0.5mm opening for options.
As China & USA leading brand for solids control / drilling waste management, GN Solids Control have various product to meet the different needs, including vertical cuttings dryer, high G dryer, decanter centrifuge, solidification unit, thermal desorption unit etc.